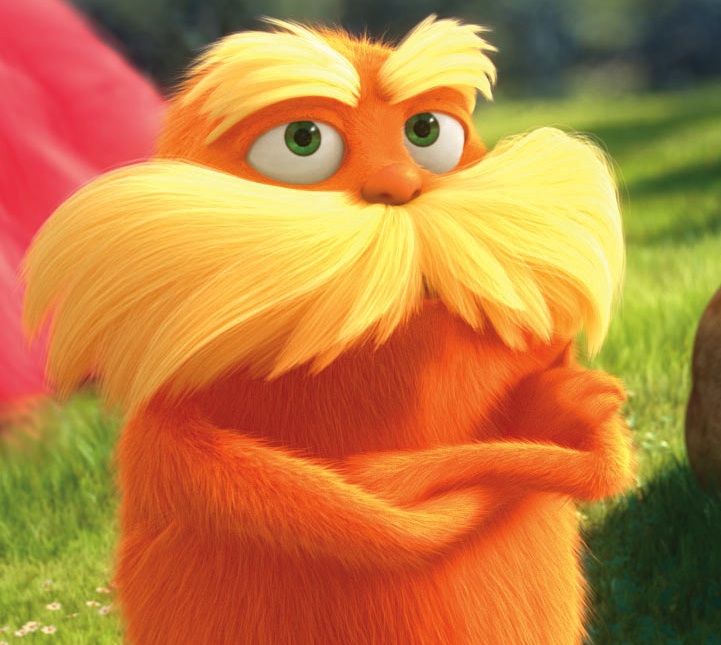 I recall watching a 1972 animated TV special version of The Lorax as a kid and being subsequently scared out of my mind. Sure, it's an adaptation of a Dr. Seuss book starring a pint-size orange guy with a fluffy mustache, but the meat of the story, The Lorax's on-going battle to save his land from deforestation, is downright terrifying and bleak. A normal joe called the Once-ler realizes the beautiful trees of the world can be cut down and spun into beautiful garnets—leading to his consumption of the entire land. The color scheme goes from bright pastels to gloom and doom, faded representations of the cartoonish intro.
See why I had nightmares after watching this!?
Now, Illumination Entertainment, the folks who brought us the thin, humorous Despicable Me, are back with their own adaptation of the story, which differentiates itself right off the bat with new characters and new designs. This version starts in the future, in a world where there are no trees. One suspects that the scrappy kid at the center of the trailer (voiced by Zac Efron) will eventually hear the story of The Lorax (Danny Devito) and his encounter with the original, spirited Once-ler (Ed Helms).
The trailer doesn't focus on a lot of what makes the source material stand out, the tragic journey of The Lorax "fighting for the trees," but then again, that might not be a way to sell a poignant animated film to the kids you hope go see it. Instead the trailer sticks to the imaginative world the directors have created and it's a dazzling creation, classically Seussian while taking full advantage of the 3D medium.
I'm sure The Lorax will be a well-made animated flick, but can it deliver the message that made the original book a classic? Here's hoping.
The Lorax hits theaters March 2, 2012.