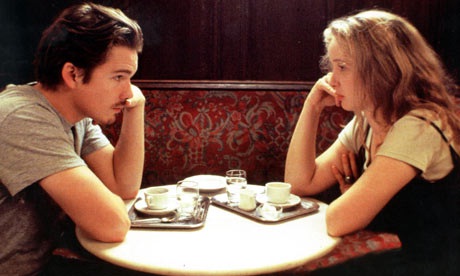 This one's a thinker.
Way back in 1995, amid the prime years of Richard Linklater's filmmaking career, the man directed Before Sunrise, starring Ethan Hawke and Julie Delpy (both about twenty-four years old). In 2004, the necessary and completely on-par-with-the-original Before Sunset [Editor's Note: It's better than the original] was crafted by Linklater, Hawke and Delpy. Everyone was sublimely pleased with Sunset. It did much of what we wanted it to, without playing too heavily to safe expectations. It was good. The set felt right. We were happy.
So naturally, now, they're considering making another one. Hawke, who co-wrote the Sunset script with Linklater and Delpy, has made mention of a reteaming of the trio to pen a third installment in the series about the love between Jesse and Celine. So...should this happen?
Some will undoubtedly say yes. Some have more faith than I do, I guess, in the preservation of the same quality in a film to come. Maybe some even feel that another movie will provide a real sense of closure, as opposed to the "marginally conclusive" ending they might consider the second film to have fostered. Further still, the world and we as an audience have changed since 1995, and again since 2004. Should Jesse and Celine return in this new era to represent how we, older and instilled with whatever characteristics this new world might embrace, would now take on this lovely, tragic, magical, raw, enlightening and dismal romance?
It's a tough one.
Source: Vulture