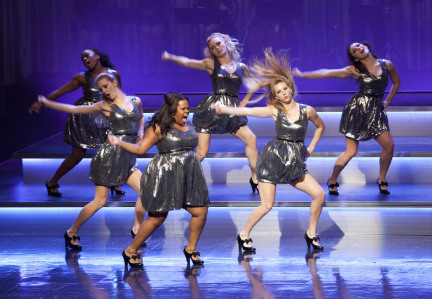 It's Friday, and that means it's time to get a little musical apéritif from Tuesday's Glee episode. First up, is the video of the Trouble Tones' sectionals performance - a mashup of "Survivor" and "I Will Survive" - that just may be the thing that keeps the New Directions out of the running for Regionals. (But I'm putting my money on a tie so we can carry this rivalry out a little longer). The New Directions have a Michael Jackson medley lined up, which is where that version of "Man in The Mirror" comes from, but from what we can tell, it's all just a little Season 1 and the Trouble Tones have got a fresh, killer, girl-power-infused thing going on, which is going to be tough to beat.
In addition, we've got the first song from Sam, which is a bit of a disappointment in that it's yet another song I really don't think teenagers should be singing: "Red Solo Cup." (See: the symbol of general inebriation and debauchery in college.) We've also got versions of Janet Jackson's "Control," fun's "We Are Young," and "ABC" which goes along with "Man in the Mirror." 
The sectionals episode airs Tuesday, Dec. 6 at 8 p.m. ET/PT on Fox.