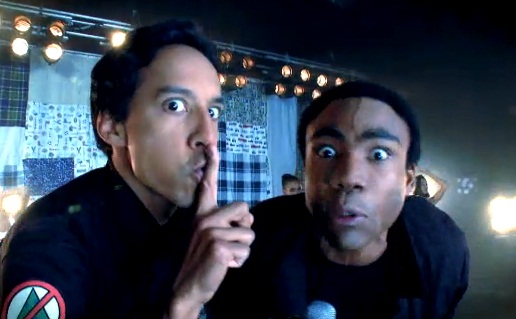 Oh, Community. This is why you're so perfect and why you're so inaccessible. Fans of NBC's without-a-doubt best benched series of the midseason know that the study group does particuarly well when it comes to Christmas episodes. The first season's "Comparative Religion" introduced all of the characters' spiritual beliefs—most notably, Shirley's religious intolerance—and really got the ball rolling on the whole "these people are becoming a (toxic) family" theme. Season 2 kicked it into a higher gear with "Abed's Uncontrollable Christmas," the stop-motion special that really dug into everyone's favorite TV addict's emotional turmoils. And this year, something magical is in store with "Regional Holiday Music."
Community has been particularly unapologetic about its aversion to Fox's Glee. And in the spirit of slight disdain (and Christmas!), Community is focusing its brilliant takedown of television tropes on a musical episode. In NBC's sneak peak below of this Thursday's "Regional Holiday Music," we see the musically talented Abed and Troy give a very off-kilter rendition about their feelings on Christmas. Fans of Community will rejoice. Fans of Donald Glover's rap alter ego, Childish Gambino, will be ecstatic. And fans of Christmas...well, that group might be a little terrified.
Watch Community's musical Christmas episode, "Regional Holiday Music," this Thursday at 8 p.m. ET/PT on NBC.