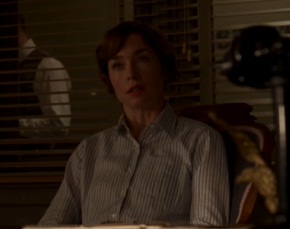 A few of us might be a little...apprehensive about the upcoming Boardwalk Empire season finale, airing this Sunday, considering the huge (and shudder-inducing) reveal in last week's episode of the HBO drama. But as afraid as we might be, there's still a lot of excitement circling the members of 1921's sordid seaside town.
This preview featurette says very little out loud, but shows a good deal of drama in which Nucky, Margaret, Jimmy and the rest of the Atlantic City denizens are enrapt. Below that are two clips from the upcoming episode that give us a bit of insight into the drama that will involve a few of the series' most captivating characters.
Boardwalk Empire airs Dec. 11 at 9 p.m. ET/PT on HBO.
In the first clip from the season finale, we see Margaret meeting with no-nonsense, incorruptible prosecuting attorney Esther Randolph. Margaret has been subpoenaed to testify on Nucky's case, and it seems like she might be on the fence regarding whether or not to remain loyal.
In the next clip, we see the New York boys meeting over the prospect of the heroin trade. Needless to say, Meyer Lansky and Lucky Luciano have been hardly reverent to their longtime employer, Arnold Rothstein. But business is business. The real question is: what will this mean for their new business partner, Jimmy?
Boardwalk Empire's season 2 finale airs this Sunday at 9 p.m. ET/PT on HBO.