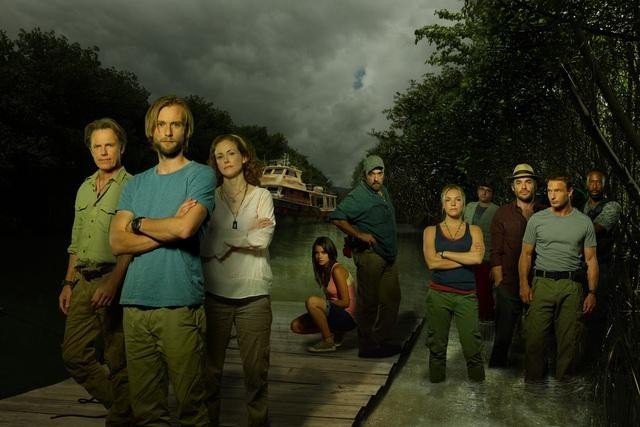 Over the last year or so, Steven Spielberg has teamed with a variety of high-profile filmmakers to get an astounding number of projects off the ground. He made the sci-fi western Cowboys and Aliens with Jon Favreau, the sci-fi sports drama Real Steel with Shawn Levy and the sci-fi sci-fi flick Super 8 with J.J. Abrams on the big screen, but has been just as prolific on the small screen with Terra Nova, Falling Skies and Smash. Last night, he launched The River on ABC, a new series as ambitious as LOST and as creepy as creator Oren Peli's breakthrough film Paranormal Activity. A pairing of tastemakers as influential as these two was bound to be something special, and below I've listed four notions that I took away from its two-hour premiere. (You should also check out our exclusive interview with star Joe Anderson).
But first a little background: The show starts off when Dr. Emmet Cole (Bruce Greenwood), a beloved TV personality who made a career out of exploring the Amazon with his show "The Undiscovered Country", disappears. Six months later, with no trace of him, his crew or his ship The Magus, the search effort is called off, but his doting wife scrambles together a crack team of interested parties to pick up where the professionals left off. In tow are two cameramen charged with documenting their quest, a private security expert, a navigator who worked with Cole in the past (and his daughter), the daughter of one of Cole's closest confidantes and her own son who bears a chip on his shoulder thanks to his father's enthusiasm to entertain the masses at the price of his own childhood. When they set out to locate Emmet, they make a startling discovery that none of them were prepared for.
The Scares are in the Setting
ABC's LOST took place on a mysterious Island, and throughout the series we explored its various landmarks, hatches and temples. The showrunners were able to take natural environments like forests and caves as well as artificial constructs and make them characters unto themselves with startling physical features and sound effects that were branded into our minds. The River, with an Amazonian adventure and a supernatural narrative at its heart, is capable of the same inherent terror. We are plunged into the darkness of The Magus in the first hour of the show, and the lack of visibility coupled with the found-footage filming style makes for a jarring, original experience for TV fans.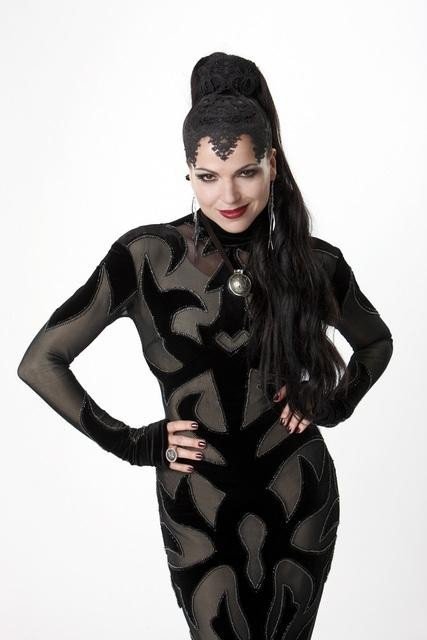 The River is the Anti-Once Upon a Time
While alphabet vets Ed Kitsis and Adam Horowitz paint a kid-friendly portrait of the sunny side of magic with Once Upon a Time, The River aims to provide mature audiences with a darker and more sinister look at what can be done with the fantastic fictional practice. It becomes evident early on in the premiere event that Emmet Cole was involved with Occult forces, and director Jaume Collet-Serra (House of Wax, Orphan) brings them to life with old-school techniques and digital effects. Given the flux of sunny fairytale adaptations we've seen recently on the small and silver screen, it's refreshing to see someone take a different approach toward magic, one that is sure to deliver lots of thrills as the series progresses.
Every Show Could Use a Smoke Monster
The River's biggest draw is its unseen enemy. The show teases a supernatural antagonist early on in the pilot and its significance is made pretty clear with backstory that ties to the travellers' mission. It's not as mysterious as the Island's smoke monster – we learn what it might be by the end of the first hour – but its effect on the characters is substantial. My theory? Every show could use an external force to shake things up. Think about what Grey's Anatomy could do with the ghosts of patients past running through Seattle Grace, or how much more interesting 24 would've been had Jack Bauer contended with the spirits of all the men he'd killed? I'm only kind of joking here people…
More Bruce Greenwood, Please
Overall, the cast of The River left me unimpressed. The performances that made the cut feel more like read-throughs than the real thing, and a few of the actors really took me out of the experience. Bruce Greenwood, however, makes up for what the rest of the roster lacks in dramatic believability. We see his character in non-linear fashion through old scenes of the "Undiscovered Country" show and in found-footage that the rescue team stumbles upon, and it's fascinating to watch Cole's descent into madness in this way. One moment you're watching a family man in his prime, the next you see a deeply flawed, frightened and paranoid individual who's obviously in over his head. He's playing two characters with Cole, and I hope we get to see more of both throughout the series as finding him will answer many questions about what's going bump in the night out there in the Amazon.