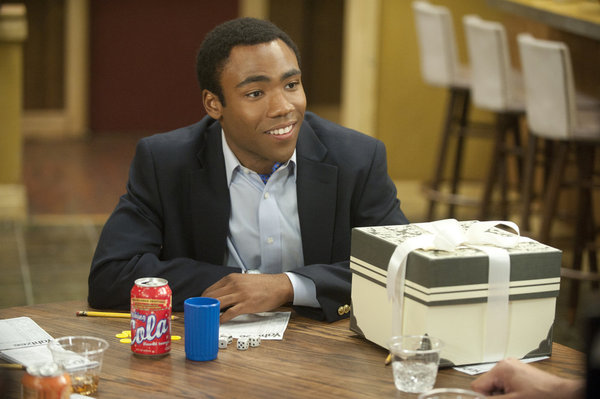 Even if you never watched a Community episode in your life, after NBC benched the series, you surely heard fans whining all over the internet, lamenting in flash-mob-form, and staging protests by simultaneously adding little black goatees to their Twitter profiles. It was a pretty big deal. But then, NBC decided the beloved (in a very niche sort of way) series could have its Thursday night spot back starting at 8 p.m. ET/PT on March 15. Now, we know what the triumphant return will look like!
The photos below deliver Pierce looking like Gordon Gecko, Troy rocking Pierce's dad's ivory toupe, and something romantic for Shirley and Andre (guest star Malcolm Jamal Warner). Here's the official NBC synopsis for "Urban Matrimony and the Sandwich Arts":
"ANDRE RE-PROPOSES TO SHIRLEY; PIERCE AND SHIRLEY PURSUE A SANDWICH BUSINESS TOGETHER – MALCOLM JAMAL WARNER GUEST STARS – Andre (guest star Malcolm Jamal Warner, ("The Cosby Show," "Reed Between The Lines") proposes that he and Shirley (Yvette Nicole Brown) remarry and a wedding date is set. Britta (Gillian Jacobs) and Annie (Alison Brie) get busy planning the wedding and Jeff (Joel McHale) prepares to give a wedding speech – while Troy (Donald Glover) and Abed (Danny Pudi) get ready to be "normal" for the occasion. Meanwhile, Pierce (Chevy Chase) and Shirley pitch a sandwich shop idea to Dean Pelton (Jim Rash) for the Greendale cafeteria."




(Photos credit: Jordin Althaus/NBC)