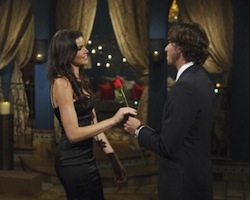 S16E11: This is it, folks -- the moment we've all been waiting for ever since Courtney's vindictive personality graced our television screens. It's The Bachelor finale! For weeks and weeks we've wondered if Ben would really pick Courtney even though the entire world has advised him against it. Well, the answer is YES! Of course he chose her, because we all want what we can't and shouldn't have, and Ben is no different.
After letting poor Lindzi down as gently as possible, Ben got down on one knee and proposed marriage to the Season 16 bad girl -- and she said "yes." If you listen closely, you can hear the screams of outrage coming from 24 ex-bachelorettes, attempting to cope with the befuddling news.
It's not exactly the fairytale we envisioned coming out of this show, but hey, maybe it will work out. Maybe Courtney will prove all of us wrong and become the woman we never thought she could be. After a season like this, anything is possible.
What did you think of Ben's decision? Are you happy that he picked Courtney? Was Lindzi a better match for him? Sound off in the comments below or get at me on Twitter @KellyBean0415.
Check back here later for a full recap!