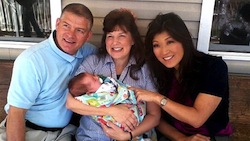 Most of us don't know any families with well over a dozen kids, but somehow TLC has managed to find another brood to compete with the Duggars for the largest number of home-schooled, seemingly-angelic offspring. Though as far as we know, the Duggars have no intention of ending their reality hit 19 Kids and Counting, tonight the network will debut a suspiciously similar series called The Bates Family: Baby Makes 19.
Currently Gil and Kelly Bates are matched with the Duggars at 19 kids, but they have no plans to stop procreating, even though they're both in their mid-forties. The evangelical Christians told Good Morning America's Juju Chang that they're against using birth control and want, "to let the Lord decide how many children we would have." Gil explained, "if the Lord were to give us more children, me and my wife would both be excited. It would be like saying more blessings."
Dashing hopes for a Duggar-Bates schoolyard showdown, the two families have met, and seem to get along. "The Duggars are some of the kindest hearted people," says Gil. "We're all in a race against time to finish whatever work God has for us in the time we have left." However, they'll still face off in the ratings at least, as we learn which family's bulk-food cooking and homemade-dress wearing America finds more entertaining.