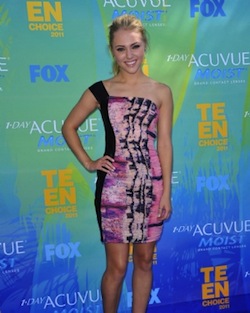 Filling the shoes — sorry, Manolo Blahniks — of one of of TV's most iconic characters can be a daunting task, but luckily new Carrie Bradshaw AnnaSophia Robb is getting some help from Sarah Jessica Parker.
"She sent me a letter! I wrote her one back, too," says the 18-year-old star of The Carrie Diaries, a Sex and the City prequel set to air on the CW this fall. "She was just very encouraging about it all. It was really cool!"
Robb has been preparing for months, but yesterday she finally got to start shooting the first episode in New York. As for measuring up to the HBO series, she isn't worried. "I know everyone's going to compare it to Sex and the City, but we're never going to be that," she said. "The show is more for my generation, but it's set in the '80s, so it's fun."
[Us]