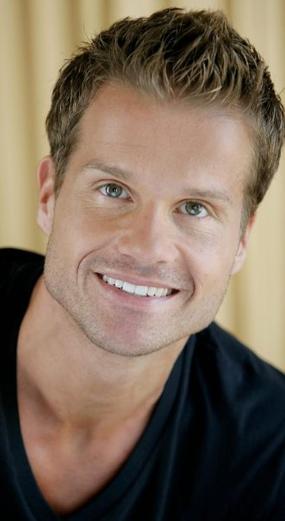 Now that we've reached Week Two of Dancing With The Stars, our dancing guru and creator of the LaBlast fitness program Louis Van Amstel is back with some more pointed advice, and a few thoughts of what he thinks about this highly impressive cast.
On the Overall Competition
Like us, Amstel was genuinely surprised to see the amount of talent coming from each contestant right out of the gate. And while he admitted that there's been some "really talented people in the past," the sheer amount already showing up on Season 14 is a astounding. "Every single couple was better than what we expected," he said. But understandably, being that they're all generally new to dance specifics, each star still needs to work on the proper technique. Amstel explained that for those performing Quick Step on March 26, the dancers bodies must be touching the entire time, except for ten seconds at the beginning and end of each routine. "Some get away with it," Amstel said, referring to some couples who managed to stay apart for 25 seconds before becoming attached. The stars will just have to force themselves to remain pressed up against their attractive dance partners as much as possible. It's a tough life.
Tip of the Week: "A lift is a lift"
As the weeks progress, judges will become more and more strict about the little things, so it's better to become acquainted with them now rather than being called out on it later. One piece of advice that Amstel stressed was for each couple to beware of the risks of lifting, which is when the female dancer's feet leave the ground with the supoort of her partner. "A lift is a lift," Amstel warned. "Peta and Donald had a lift, but Carrie Ann didn't call it out," which is surprising since Carrie Ann is usually "the lift police." Performing lifts when they shouldn't could end up cost couples crucial points from the judges' panel, so it's an important lesson to keep in mind. The only time lifts are allowed is during the Argentine tango and Freestyle, or when specifically announced by the judges.
Who's He's Rooting For?
While Amstel was impressed with what every star has to offer, the most unexpected performance came from professional tennis player Martina Navratilova."We expected nothing from Martina," Amstel admitted, saying the in the end she delivered beyond expectations. "She looked absolutely beautiful." Navratilova and her partner Tony Dovolani received a 20 out of 30 points for their fox trot. They tied for one of the lowest scores of the night, but it's still an extremely high number for the first week of performances. In fact, he enjoyed her performance so much, that he's rooting for her to outshine all the others on the dance floor this week. "I want Martina to kill it tonight," Amstel proclaims."That woman has opened doors for so many people," referring to her struggle with breast cancer.
Gladys Knight Proves Dancing Has No Age Limit
This show has a knack for proving that age knows no bounds, and this group is no exception. Gladys Knight is living proof that you don't need to be a young girl to look alive on the dance floor. "I don't think anyone expected Gladys Knight in her 60s to come out with so much spunk and energy," Amstel said."When I saw her face, and she was truly enjoying it, it was such an inspiration in itself." And if she's having fun, then the audience is having fun -- and that means more votes!
Athletes: Better Dancers?
As Amstel stated in his last post on Hollywood.com, football players seem to possess an incredible knack for being light on their feet. And given Green Bay Packer's Donald Driver's impressive 21 out of 30 points during the first week, he seems to be right. "He's not going anywhere," Amstel assured us, comparing Driver's "musicality" to the likes of past DWTS football players Hines Ward and Emmett Smith. "Sports men are competitive ... Even though this is dance, it's still a competition." He added, "Athletes have tunnel vision" because when they're dancing they are off-season, so they can "focus on dancing 100 percent."
William Levy and Sherri Shepherd: Practice vs. Busy Schedules
However, not all stars are able to enjoy the luxuries of being off-season. Some competitors are forced to juggle their regular careers with their DWTS rehearsal schedules, which can definitely have its disadvantages. "You have to be a multitasker," Amstel advised, in reference to William Levy and Sherri Shepherd's long distance work schedules. "If you make one mistake, the public will blame the traveling and think you're not committed ... The public doesn't see everything."It will become an especially difficult balancing act if one (or both) of them make it to the very end of the competition. "Schedule is not a struggle for [William] now, but if he gets into the top couples, the public will start judging him," Amstel fears."At that point, he has to put everything on hold if he wants to win."
DWTS premieres at 8 p.m. ET/PT on ABC. Check back tomorrow for our full recap and stop back over next Monday for more Dancing tips from Louis Van Amstel.

About Louis Van Amstel and LaBlast
LaBlast, the partner-free dance fitness workout created by world renowned dancer and fitness expert Louis Van Amstel (as seen on ABC's "Dancing with the Stars") is now available on DVD.
Louis developed LaBlast after seeing his "Dancing with the Stars" partners make amazing body transformations, all through dance. Combining his love of dance and fitness, Louis has created a workout for at-home fans that is not only fun, but gets results.Combining classic dance techniques like the Cha Cha Cha, Disco and Jive, the LaBlast 5-disc series includes three dance-based cardio conditioning workouts and two muscle toning and strength workouts to give you a complete full body workout. Whether you want to tone your body, lose weight, maintain a healthy lifestyle, learn to dance, or just have a great time, LaBlast will make you want to dance and blast the calories away!
Visit www.lablastfitness.com for more info about Louis Van Amstel, LaBlast or to purchase a DVD.
Want to learn how to dance like a star? Louis is giving you a special opportunity to try his LaBlast workout for a discounted price. Receive 20% off the 5-disc series when you use the promo code LABLAST20. Click on the photo to get your copy today!
* Offer valid on the 5-DVD set only. Not valid with any other offer and cannot be redeemed for cash. Some restrictions may apply. Offer expires 6/15/2012.
Click on the photo to bring Louis' dance and fitness advice home!