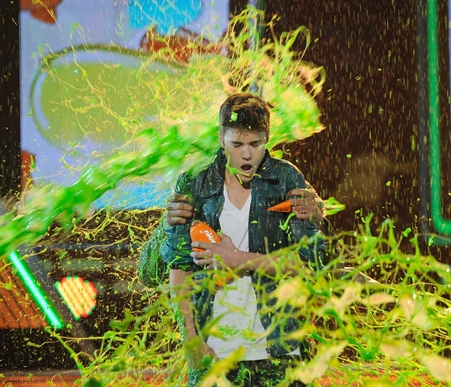 Will Smith certainly knows how to make an entrance. As host of the 25th Annual Kids' Choice Awards the Men in Black star made his way onto the stage by way of parachute. He then kicked off a performance that made good on his promise that "no one is safe from the slime!" While performing a medley of LMFAO cover songs, balloons filled with slime exploded over the pint-sized fans in the front row. Then it was the celebs' turn.
Halle Berry was the first star to get covered in the gooey green stuff, followed by Twilight's Taylor Lautner (who won the award for Favorite Buttkicker) and Glee's Chris Colfer. But the biggest slime of the night came at the close of the show with Justin Bieber getting an explosion of the green goo in his face as he accepted his blimp for Favorite Male Singer.
The only one who seemed to be spared was First Lady Michelle Obama. She was there — along with her two daughters — to present Taylor Swift with "the big help" award in recognition of her charity work, inspiring kids in the process.
Go to Nickelodeon to see who else took home a coveted blimp.