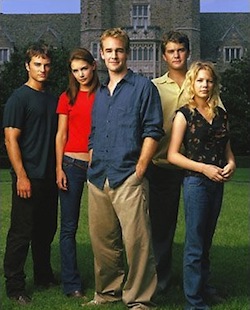 Forget the Titanic re-release. The one thing the 14-year-old in us really wants to see is a Dawson's Creek reunion. It seems like a long shot, since everyone in the cast has moved past their Creek roots. Michelle Williams was nominated for an Oscar, Katie Holmes is married to one of the biggest stars of all time, Joshua Jackson is a lead on Fringe, and James Van Der Beek is returning to TV in Don't Touch the B— in Apartment 23. Yet surprisingly, every one of them has said they'd be up for revisiting the teen drama.
Van Der Beek was the latest star to add fuel to the reunion rumors, which have been swirling on fan pages for years. When Entertainment Weekly asked if he'd take up Dawson Leery's sweater vest again, he said, "If somebody came up with a brilliant idea how to do it, why not?" 
In the fall Katie Holmes told GMA that a reunion, "Would be fun ... I had so much fun working on that show and I loved everyone so much and I think about it with such fond memories. A really great group of people."
There's no doubt that Joshua Jackson would be on board. In a
Funny or Die
video
highlighting San Diego's Pacey-Con 2010 (which unfortunately, was overshadowed by Comic-Con), he revealed that he only does
Fringe
to support his first love: Pacey Witter fan fiction. However, he has some conditions for reprising the role: "Pacey's done his time," he said. "I want first billing." Even Michelle Williams, who's become a bona fide movie star since the show ended in 2003, says she's be willing to do a reunion show. She told
Ryan Seacrest
's radio show, "Yes! In a heartbeat I would go back. I would have to come back as a ghost though, because poor Jen Lindley died. But YES!" After hearing that Van Der Beek quipped, "I always love that Michelle is like, 'I definitely wanna do it! I'm in!' which is so easy for her to say because her character is dead. I always smile when I see that." So, is there really a chance that TV audiences will get an update on the Dawson/Joey/Pacey/Jen's ghost love quadrangle? Despite the stars' enthusiasm, probably not. Van Der Beek and Jackson have shown that they're willing to play with their former teen heartthrob personas, but they don't have to worry about losing an invitation to the Oscars. Holmes and Williams can't exactly say this in an interview, but they're both eager to make audiences remember them as A-listers, not the girls from a late '90s TV show. Williams has even admitted that she didn't love being on the show,
explaining
, "You're doing one thing in plain sight and secretly plotting something else. I was plotting my tastes, my interests, my beliefs and hopes for what I could be." 
The best fans can hope for is a Pacey/Dawson mini-reunion — which would actually be pretty entertaining. Let's hope the team behind Don't Trust the B— in Apartment 23 has the same idea!