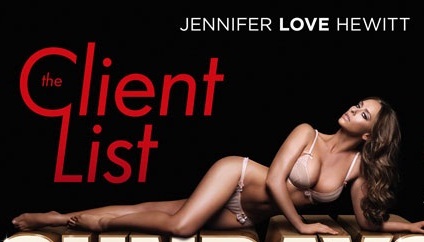 A teenaged Jennifer Love Hewitt was doubtlessly a celebrity crush for many children of the '90s. But now that Hewitt is getting back in the television game, she's taking on some much more adult themes. Hewitt stars in The Client List, a Lifetime series that premieres Sunday, April 8 at 10 PM ET/PT.
The series stars Hewitt as a single mother who finds work at a massage parlor that offers sexual favors to a special list of clients — a job that Hewitt's character didn't exactly sign up for, but decides to take on to support her family.
From the description of the show, and the looks at its promotional poster, it seems like Hewitt is totally comfortable with some more suggestive themes. However, Hollywood.com spoke to the star, and found out that there are some lengths she isn't willing to take onscreen: "I wouldn't have done nudity, no. That's not something that I feel particularly comfortable with. I also think that it's sexier not to show everything. I feel that people's imaginations can do way more. So no, it probably would have been a different consideration for me."
But it's not like Hewitt is exactly "covered up" during her Client List shooting. The star admits she spends a good deal of her time in lingerie — especially when performing her massage scenes — something that took a lot of getting used to:
"It was a little nerve wracking the first day for sure. It is still — essentially even though we're actors the guys are strangers to me at the time. I think it's awkward for them also because I'm in lingerie, they're in pretty much nothing, but we're in front of so many people. But it is a very intimate thing to have to massage people, so it does take a couple of takes to sort of feel comfortable with it." Hewitt adds, "I'm sort of there in lingerie and everything, but I will say that the guys that we've hired so far have just been just such gentlemen, they've been so lovely."
Of course, with subject matter like this, a program is bound to attract some controversy, in this case specifically from special interest groups defending the image of massage therapists. Hewitt empathizes with the members of this work force, but defends the intentions of her new show:
"It's a television series, so I don't think anybody that's ... turning it on is expecting me to keep the logistics of giving a proper massage. If they've seen our billboards, they're definitely not expecting that. I played a medium on Ghost Whisperer for six years, and the mediums never complained at the fact that I had cleavage while I was crossing people over into the light. In fact, they were super-excited that like a hot person was out there representing the medium."
"I have the utmost respect for the massage therapy industry ... I think it's important for people to understand and they will when they see the series that we also give legitimate massages at the spa, so it's not all happy endings ... We do represent both sides of [massage parlors]. But at the end of the day it's the reality. There really are these places ... We're just trying to tell a story and would never ever disrespect any profession intentionally."
More
Jennifer Love Hewitt to Reprise 'Client List' Role for Lifetime Series
Lindsay Lohan May Play Elizabeth Taylor in a Lifetime Movie