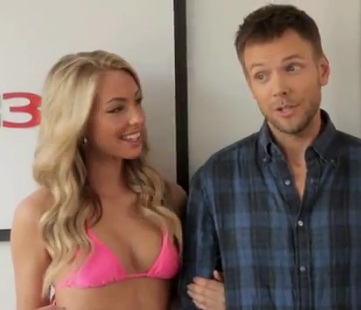 Where does it end, Joel McHale? You started out by parodying celebrity gossip on the celebrity gossip show The Soup. Then, you joined Community — a sitcom whose bread and butter is satirizing sitcoms. And now, you're doing it with viral videos? Mr. McHale, you have perhaps the most clever and entertaining addiction in human history.
In this new advertisement for Nintendo, McHale makes it his mission to make fun of all of the tropes and traditions of viral videos: sneezing pandas, crotch-kicks, scantily clad women. All the things McHale is sure that the world can't resist watching over and over. And in this quest to send up the viral video species, McHale may in fact create a very capable viral video. An ingenious plan.
Check out the video below, and watch McHale make fun of lots other things on Community, Thursday nights at 8 PM ET/PT on NBC. McHale is also the focus on the latest episode of Morgan Spurlock's Hulu series A Day in the Life, which you can read more about here.
More:
Morgan Spurlock Says Hulu Is the Future of TV — EXCLUSIVE
Community Recap: Blankets and Pillows
Will Ferrell, Kristen Bell and More Read Tweets About Themselves on Kimmel