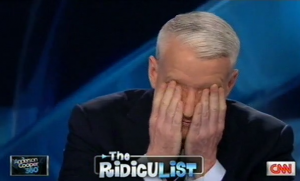 Try to contain yourself: The elusive Giggling Silver Fox has appeared once again. Re-emerging just six months after the laughing fox – better known in some regions as CNN correspondent Anderson Cooper – made its debut thanks to a particular Gerard Deperdieu incident, he is back with his incredibly infectious, joyous laugh.
During Tuesday night's installment of his segment "The RidicuList," Cooper once again adorably lost his composure on the air, this time talking about the Polish festival Dyngus Day. But, surprisingly enough, it wasn't the word "Dyngus" that did him in, rather the mention of a pussy willow branch. Childish? Perhaps. But, there's something oddly comforting about the fact that even the most respected, typically composed adults can laugh about the same things that make them laugh in the third grade. Even Cooper himself admitted halfway through his most recent chuckle attack, "It's really so stupid."
Watch the moment here, and good luck trying not to wind up a giggly, teary-eyed mess like the anchor by the end of it.
Honestly, does anyone in Hollywood have a more infectious laugh than Anderson Cooper? What do you think is going to make him lose it next time? Perhaps a story on Lake Titicaca or a segment featuring Cockapoos?
More:
Anderson Cooper Has An On-Air Giggle Fit – Watch!
Anderson Cooper Applauded For Trying Coffee