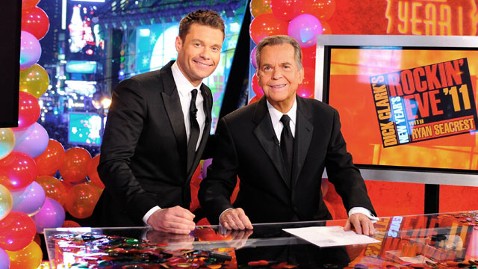 Update: Seacrest continued his tribute when he opened this evening's episode of American Idol, saying, "Without Dick a show like this would not exist. He will be missed greatly ... I know that he's in a better place saying, 'Hey, let's get on with the show.' You got it, boss." It was a brief, touching moment, and a tender farewell to an icon.
Earlier: In the wake of Dick Clark's passing, Ryan Seacrest remembered the late, great personality, the man who set the gold standard for television hosting and paved the way for his career. The American Idol and radio host paid tribute to the legendary personality, who died today at the age of 82 after suffering a heart attack. Seacrest, who took over for Clark's iconic Rockin' New Year's Eve specials on ABC released this statement:
"I am deeply saddened by the loss of my dear friend Dick Clark. He has truly been one of the greatest influences in my life. I idolized him from the start, and I was graced early on in my career with his generous advice and counsel. When I joined his show in 2006, it was a dream come true to work with him every New Year's Eve for the last 6 years. He was smart, charming, funny and always a true gentleman. I learned a great deal from him, and I'll always be indebted to him for his faith and support of me. He was a remarkable host and businessman and left a rich legacy to television audiences around the world. We will all miss him."
Seacrest also took to his Twitter, like many other celebs, to share his thoughts on Clark, as he shared with followers, "My thoughts and prayers are with his family."
[Photo credit: ABC]
[EW]
More:
Dick Clark, TV Icon, Dies at 82