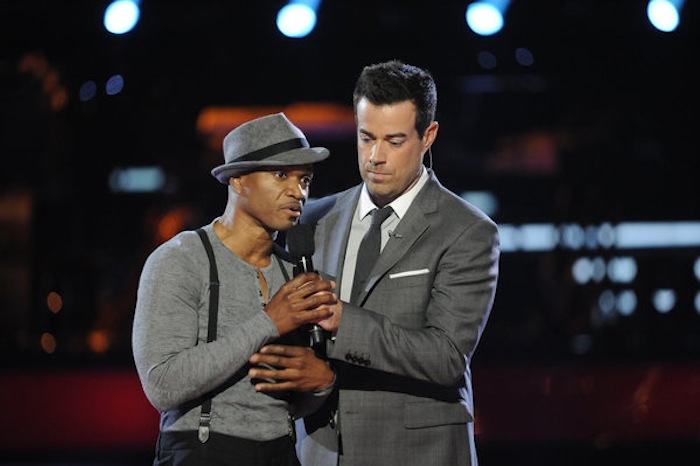 It's been a big week over at The Voice: Tough-as-nails mentor Christina Aguilera instantly eliminated fan-favorite Jesse Campbell, while Blake Shelton almost cut into Smash time when he was forced to pick between RaeLynn or Erin Willett.
Shelton and his fellow mentor, Cee Lo Green, addressed these issues to a panel of reporters at NBC's Summer Press Day, while host Carson Daly weighed in on how the mentors would fare in the brutal competition.
"You could hear a pin drop," Daly said about Campbell's shocking elimination. "It was a 'wow' moment on the show. One of the great things about our show is, last night when Lindsey Paveo was singing for her life, Christina was crying. I've never seen her that emotional on television. When she needed to make a decision, I said to her, 'Christina, you've become so unpredictable on this show. You're so invested in this show and your team. I didn't know if those tears were because you're looking at one of your artists for the last time, or if those were tears because of the opposite.' Christina's got a philosophy and a strategy as a coach. Why did she let Jesse go? Her strategy was, she wants people that she can continue to work with. She let Jesse go into the world as an incredible artist."
An interesting philosophy for sure -- and one that Green doesn't necessarily agree with. "We don't share the same strategy as coaches," he said. "I was in awe. I was speechless."
Shelton was faced with a similar situation last night, when one of his favorite pets -- RaeLynn -- did not live up to her teammate's standards. When asked if he based his decision to eliminate RaeLynn on her overall performance throughout the show's run, he definitively responded in the negative. "There's no point of having a sing-off if you're going to base your decision off of all of the other episodes," he said. "That's what sucks. I don't like it. I think it's a lot of pressure, and it's hard for them. I went into the show last night thinking that I would probably pick RaeLynn if they did an equal job -- because as a country artist, I feel like maybe I could help her a little more. Listening to the sing-off, Erin had the better performance. I thought I did my job sitting in that red chair, doing the right thing. It wouldn't have been fair to Erin for me to pick RaeLynn based off the fact that she's a country artist and she's cute."
On a lighter note, when asked how the mentors would fare if they were contestants on The Voice, Shelton said that Green would have the best shot. "I think that Cee Lo would thrive on a show like this," Shelton said. "He's so versatile and can do so many different things. I'm a one-trick pony. I hopefully could get through the [blind auditions], and then I'd start sucking." Daly agreed: "[Green] would get three chairs, and you'd be lucky to get one."
Daly also addressed rumors of a potential fall season, saying that the decision was in NBC's hands. "At this point, we on the production side are all ready to go and excited about it," he said. "But the truth is, it's really a call from the network that we haven't gotten yet. We'd be thrilled."
Finally, Shelton and Daly addressed the question that's been on every fan's mind: How can they make their contestants, who largely disappeared from the public eye after season one, into bona fide Idol level stars? According to them, it's all about keeping in touch with their mentors. "My [season one] finalist, Dia Frampton -- I actually recorded a song with her," Shelton said. "[I] brought her out on tour with me for three months. Also, the girl that was on this season -- Gwen Sebastian -- is out touring with me. She's a backup singer for me. It's awesome." Daly agreed. "What's great about having four of the biggest music superstars in the world is how happy they are in their own careers. They have a lot of opportunities for these artists outside of the TV show."
Follow Shaunna on Twitter @HWShaunna
MORE:
The Voice Recap: Please Welcome Justin Bieber
The Voice Recap: Instant Eliminations