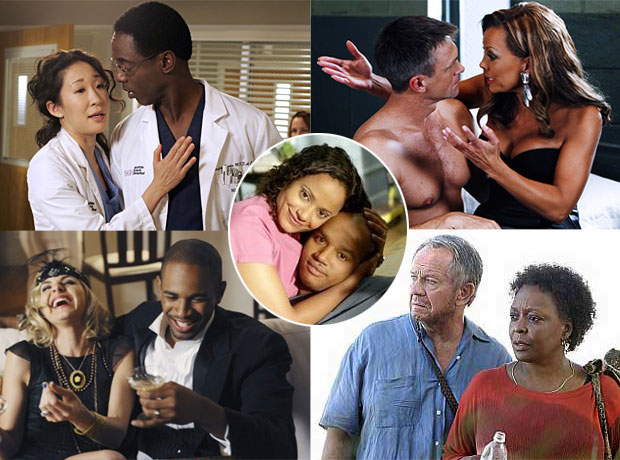 When did reality television make its biggest disconnect from actual reality? Was it when people willingly ate live insects for money/the voyeuristic Schadenfreude nature of our society? Or when they reconfigured their faces to look like people who would appreciate their own anonymity back? Or did six strangers living in a house documenting their every moment mold our old reality into one in which our every thought is put online and fame can be achieved through nothing more than being the worst possible version of yourself? 
Or was it when a significant portion of our society stopped being properly represented on reality television? At least two men would argue the latter — on Wednesday, a Nashville-based group led by football players 
Nathaniel Claybrooks
 and
Christopher Johnson
filed a 
lawsuit against ABC
, claiming Claybrooks and Johnson were turned away from a fair chance at trying out for the network's immensely popular reality dating show
The Bachelor
. 
For the duration of its 23 seasons on the air, neither The Bachelor, nor its spin-off
The Bachelorette
 have featured a headlining contestant of race. Only morally corrupt, self-esteem vacant Caucasians have had their fair shot at finding televised, US Weekly cover-baiting "love" as the Bachelor or Bachelorette. Soul-crushing as the show might often be, this is a glaring omission in the warped world of reality television. As the lawsuit states, "The deliberate exclusion of people of color from the roles of The
Bachelor
and
Bachelorette
underscores the significant barriers that people of color continue to face in media and the broader marketplace." (For its part, Warner Horizon Television, which produces the franchise, released a statement calling the lawsuit "baseless and without merit." Says their statement, "The producers have been consistently — and publicly — vocal about seeking diverse candidates for both programs." ABC itself has not yet responded to Hollywood.com's request to comment on the suit.) Granted, the argument about white-washed television is hardly a new controversy. Even in the non-reality realm, the hotly debated topic still regularly comes up. Just in this past week, one of the biggest criticisms surrounding the new HBO series Girls was that none of its characters seemed to know anyone of color, despite living in the melting pot that is New York City. And the argument that both The Bachelor and The Bachelorette have excluded minorities certainly isn't new either — when met with detractors in the past, the series simply claimed no minorities have tried out. During a 2011 interview with
Entertainment Weekly
, The Bachelor creator Mike Fleiss said that when it came to casting contestants of race, "We really tried, but sometimes we feel guilty of tokenism. Oh, we have to wedge African-American chicks in there! We always want to cast for ethnic diversity, it's just that for whatever reason, they don't come forward. I wish they would." Unless Claybrooks and Johnson truly are one of the few minorities to try out for the show, producers could see more people come forward, but perhaps not in the way they would hope. (Lamar Herd, who has been championing to be the
"first black Bachelor",
 is on the producers' side: The Portland-based sportscaster responded to a fan's question on
Twitter
regarding whether he would sue if he was not chosen for The Bachelor, to which he responded, "never - it's their decision.") And it certainly didn't help that when initially asked about the lack of diversity on the show during the same interview, Fleiss could only respond, "I think Ashley [Hebert] is 1/16th Cherokee Indian, but I cannot confirm. But that is my suspicion!"  Still, despite The Bachelor scandal, ABC has remained a diverse and groundbreaking network, particularly when it comes to showing minorities and interracial relationships. In 2010, the
Pew Research Center
reported that since 1980, the rate of interracial marriage in the United States had doubled. (By 2008, interracial marriages had reached a record high of 14.6 percent of all new marriages.) It was an evolving state of our nation that ABC was fully addressing in their scripted programming. What would Grey's Anatomy have been without Cristina and Preston (aside from all the off-camera that drama that unfolded, of course); Lost without Rose and Bernard; Ugly Betty without Wilhelmina and Connor; Scrubs without Turk and Carla; Modern Family without Jay and Gloria; and, more recently, Happy Endings without Jane and Brad? What would The Bachelor have been without Jake and Vienna? Pretty great, actually. And what do all these series have in common? Central non-white or interracial couples that audiences
want
 to follow. Not only were these shows critical darlings at the top of their games (Grey's Anatomy, Scrubs, Lost, Modern Family, and Ugly Betty have a combined 30 Emmy wins between them), but the series were fan favorites. Lost had a feverishly devoted, cult-like following; Grey's Anatomy, during its second season, averaged 19.84 million viewers and remains
the most Tivo'ed show on television
; 
Modern Family
is a continual ratings behemoth (it is the top scripted show with adults 18-49 in its time slot); and
Happy Endings
has cultivated a larger and much more enthusiastic audience in its second season. It's not a coincidence that series featuring non-white or interracial couples have become tremendous hits. The network (which also showed interracial relationships on some of their more short-lived series like Mr. Sunshine and FlashForward) has given non-white and interracial couples smart, funny, and perhaps most importantly, relatable plotlines that represent them and have made an indelible mark on the landscape of television. Now it's in ABC's hands to lead the charge and do the same for reality television. While the medium has had its fair share of triumphs when documenting non-white or interracial couples (
MTV's True Life
had a particularly effective episode on interracial dating), the VH1 reality factory that turned out the likes of Flavor of Love has done no favors for ethnic reality programming. Or anyone, for that matter. One could argue that ABC has already gone above and beyond with their mammoth reality smash Dancing with the Stars, which has featured a variety of diverse casts in its 14 seasons. In fact, six of DWTS' winning contestants were minorities whose dance partners were a different race. But there's a discernible difference between a dance competition and a dating show where race most certainly becomes an issue. With programming like Lost and Grey's Anatomy and Happy Endings, ABC has made it abundantly clear they know and appreciate that love sees no color. They just have make it known it isn't just fiction. It is, for so many, reality. More:
The Bachelor Lawsuit: Series Sued for Racial Discrimination
Warner Bros. Responds to Bachelor Lawsuit: It's 'Baseless'
The Bachelor Final Rose Recap