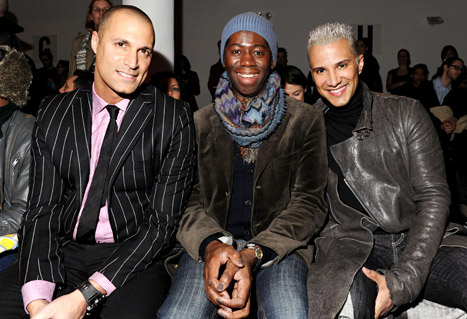 As we learned earlier today — and are still reeling from — Tyra Banks has fired almost everyone from America's Next Top Model.
All we knew at the time was that ratings during "cycle 18" were down quite a bit, and The CW issued the following statement on the three major firings, er, non-renewals: "Nigel Barker, Jay Manuel and J. Alexander have been an integral part of the 'America's Next Top Model' brand and they helped turn this show into the household name it is today. They have been amazing assets to the show and will always be a part of the 'Top Model' family. We will continue to actively work with each of them on future projects."
But a little more light has been shed on the shake-up, courtesy of the Top Model personalities themselves. Barker told E! News that he wasn't all that surprised: "It wasn't a shock. I'm friends with Tyra and the producers. There had been a discussion that ratings were down and that something like this would happen. There had been previous years where discussions about me being eliminated from the show had happened and I had actually survived the chopping block before."
Manuel, too, has spoken out on the layoff in a ]