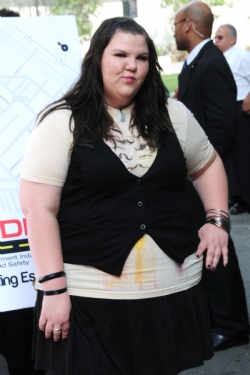 Last season on Glee, Lauren Zizes was upgraded from hallway extra with an occasional line to full-fledged member of New Directions. Since she quit the group and dumped Puckerman she's been nowhere to be found, and now Ashley Fink says her controversial character is off the show for good.
"It is what it is," Fink told TheInsider.com. "Lauren's somewhere in that school, she's just not on camera or being talked about. She's involved in activities that aren't televised." Oddly, show creator Ryan Murphy said in the beginning of season three that though Fink would be in fewer episodes, she would still have "a major story with Chris Colfer." However, Fink says we'll never see that storyline. "Glee is very much a fly by the seat of your pants [operation] in the way that best laid plans never quite come together," she explains. "They have so many [characters] to take care of and I think once they made the decision that all these characters were going to graduate, it shifted the way this season was going to go."
Even the biggest Glee fans have plenty of complaints about this season, so they can just add the poor handling of Fink's character to the list. Lauren Zizes was a rarity on TV: An overweight teen who was confident and made no apologies for her size. Unfortunately, the writers didn't know what to do with her. When Puck serenaded her with "Fat Bottomed Girls," Lauren explained that she didn't find the song flattering, and wasn't looking for someone who loved her in spite of her appearance. Yet, in a later episode, Lauren loved Puck's song "Big Ass Heart." Apparently offensive lyrics about her size, such as, "When you shop for groceries, that heart gets its own damn cart," were fine as long as they were original. It's a shame that Glee couldn't come up with more stories for Lauren, and sad that we won't even see what personal flair she adds to her graduation robe.
More:
'Glee' Recap: Saturday Night Glee-ver Presents the No-Directions
Why I'm Going to Start Watching 'Glee' Again
'Glee,' 'New Girl' and 'Raising Hope' Renewed Through 2013
[Us]