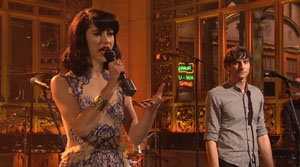 If the sudden mega hit "Somebody That I Used to Know" is driving you nuts, you're not alone. It's been giving Gotye a headache too since he allegedly bashed Glee's interpretation of the song. While it was reported that he said the Darren Criss/Matt Bomer version sounded "like it's playing to you from a cardboard box," as well as "dinky and wrong," he now claims his words were taken out of context.
During a performance for Los Angeles radio station 98.7 on Monday afternoon, Gotye explained that in the earlier interview he was referring to how "the nature of using reverb and space in a recording can change your perception of how a sound appeals to you." He was actually criticizing, "this xylophone hook in my song — it's kind of dinky not just in the cover version but the original song." He remarked that somehow "that becomes the Glee cover I hated and Darren Criss is an asshole," adding, "I thought it was really clever to transpose the song to two guys ... It was a great idea."
Though it's unclear how familiar the Australian performer is with Glee, he can comfort himself with the knowledge that he's just the latest of many artists to feud with the hit FOX show. Kings of Leon had to apologize to creator Ryan Murphy after an epic feud over the band's refusal to let Glee use its songs, and even Barbra Streisand had to smooth things over with the show after she was asked if they'd ever use her music and cracked, "Not if I can help it."
More:
Please, Everyone, Stop Singing That 'Somebody I Used to Know' Song
'Glee' Star Darren Criss and Matt Bomer Sing and Get Emo as Brothers — VIDEO
Why I'm Going to Start Watching 'Glee' Again