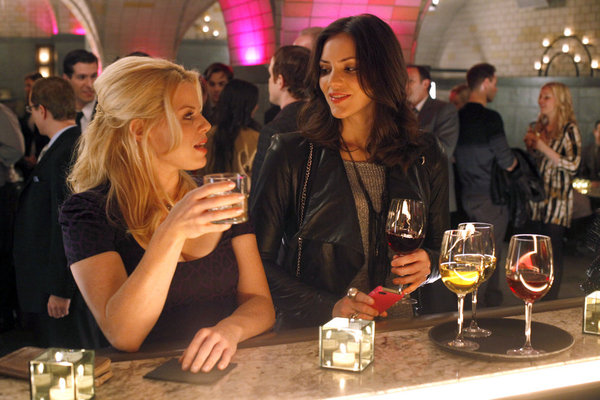 Smash fans are still hanging in there, but most of them would tell you the series needs a pair of rhinestone-encrusted jumper cables when season 2 gets underway. It's got the right parts, but they're not firing on all cylinders. That's why news that Gossip Girl executive producer Josh Safran is jumping the overwrought, unimaginative, dried up ship for NBC's flashy drama is so promising. Smash may finally get the dose of guilty pleasure insanity we're all craving. 
Naturally, as students of Gossip Girl lore, we've got a few ideas for some spicy new plots. 
1. Ivy Does a Soft-Core Porn Vampire Movie to Boost Her Star Power
Tired of competing with Karen and movie star Rebecca, Ivy could take a break to star in a 50 Shades of Grey/Twilight inspired knock-off and go all Hilary Duff on Smash. He's not exactly Lonely Boy material, but bonus points if Derek watches said vamp flick alone in his apartment with a glass of scotch and a horrified grimace. 
2. Ellis Opens Up a Downtown Burlesque Club, Acquires a Drinking Problem
Chuck Bass made failure look so damn sexy when he tried his hand at this self-indulgent business. Ellis is a scheming little brat, but giving him something so drenched in sex (and perhaps a really great suit normally only seen in high fashion photo shoots) could elevate him to full-on evil mastermind. 
3. The Movie Star, The Boyfriend and The Good Girl in a Threesome 
While the threesome between Dan, Vanessa and Hilary Duff's reincarnation of herself mixed with Kristen Stewart was a big reason Gossip Girl started to go downhill, it might fare better on Smash. There's already all that tension between Rebecca and Dev thanks to their conflicting views of how Karen should conduct herself, and that's nothing a ridiculous (and let's face it, drunken) sexual adventure can't turn into a total entertaining mess. 
4. Give Derek an Over-sexed, Pill-popping, Evil Uncle/Cousin/Long-Lost Ambiguous Relative
While Desmond Harrington phones in his performance every time he shows up as the scheming Jack Bass (seriously, he's inches away from donning a fake mustache and twirling it while tying Blair to the railroad tracks), there's something to be said for the villain that gives the resident bad boy his humanity back... and for the heartless bastard that can rile the bad boy like no other character can. Let's be honest, Derek's sex appeal could only increase with a little more riling. 
Do you think Smash needs a drama boost? Take our poll!
Follow Kelsea on Twitter @KelseaStahler.
More: