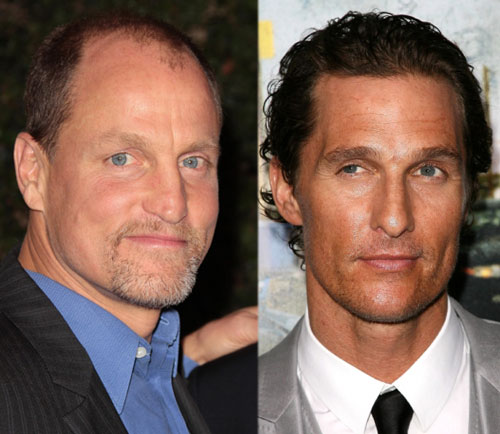 Alright, alright, alright! Two of Hollywood's most beloved dudes, actors and real-life pals Matthew McCounaughey and Woody Harrelson are heading to HBO for the upcoming cop drama True Detective. (HBO confirmed to Hollywood.com that the project is in development.)
According to The Hollywood Reporter the leading men, who have starred together on the big screen in movies like Surfer, Dude and EDtv, will star as detectives Rust Cohle (McConaughey) and Martin Hart (Harrelson) whose lives become entangled while searching for a serial killer in Louisiana." The show's eight-part first season will be directed by Cary Fukunaga (Jane Eyre) and will reportedly "follow the the 17-year hunt for the killer with following seasons replacing the cast and story."
The pairing of Harrelson, fresh off the financial success of The Hunger Games and critical praise for Rampart, with McConaughey, who had one of his better outings in years with the underrated 2011 drama Lincoln Lawyer, is just another thing HBO can add to their ongoing list of good ideas, including giving controversial new comedies Girls and Veep a deserving second season. Plus, c'mon it's Wooderson and Woody teaming up to fight crime, it's going to be better than an anything goes drum circle.
[Photo credit: DailyCeleb]
More:
Woody Harrelson Talks Hunger Games
Matthew McConaughey Gets NC-17 for Twisted Killer Joe