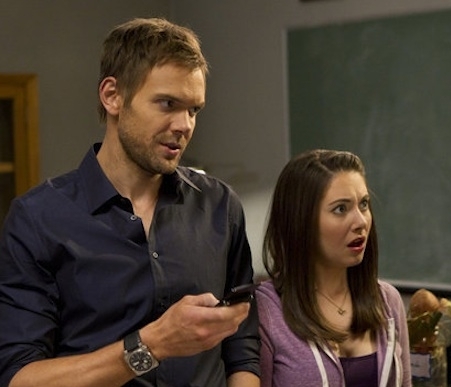 Community fans just can't catch a break. Just as the dust seems to be settling on the Chevy Chase/Dan Harmon feud, a new disappointing development has been announced: series executive producers/writers Neil Goldman and Garrett Donovan are leaving the cult NBC series.
The news was initially reported by Vulture, and Hollywood.com has confirmed with a source that Goldman and Donovan will not be returning to Community if the show is picked up for a fourth season. The pair has worked together as a creative force on comedy television series like Scrubs and Family Guy in the past. Reports are that they have signed a new deal with 20th Century Fox.
Goldman and Donovan have been famously active in the creative process behind Community, acting as proverbial seconds-in-command behind creator/showrunner Harmon. (Goldman and Donovan have produced many episodes of Community, and co-wrote the Season 3 premiere "Biology 101.") Taking a look at their past work (they reigned supreme over production on Scrubs and Family Guy during both series' golden eras), it's easy to note the team's creative strength, and to see how the brand of humor from predecessors has only gotten sharper on Community. As such, with this pair gone, is Greendale in danger of losing its signature vision?
There have been criticisms that Community is already beginning to weaken, and to differ in style and quality from its two previous seasons. While the show does  continue to crank out gems, some feel that they are less consistent. This is plausibly attributed to the absence of writers like Hilary Winston, who left the series to write for Happy Endings (which, incidentally, is produced by Community directors Anthony and Joe Russo). As Goldman and Donovan have played an even larger part in building and maintaining Community's creative stature since the show's inception, it is difficult not to worry that fans might suffer a more noticeable decline in quality come Season 4.
Of course you can argue that the above is a defeatist mentality. Community's third season has in fact given some of the show's finest episodes, including "Remedial Chaos Theory" and the more recent "Virtual Systems Analysis." The simple fact is, that when something peaks so early in its lifespan as nearly perfect, it dooms itself to harsh criticism and complaints of shark-jumping from thereon out. Although fans should be sad to see Goldman and Donovan go, it is not a reason to give up hope on the series.
More:
Community: Rise of Chang — EXCLUSIVE CLIP
Community's Law & Order Spoof Adds Criminal Minds to the Mix — EXCLUSIVE CLIP
Community Recap: Basic Lupine Urology
[Image Credit: NBC]