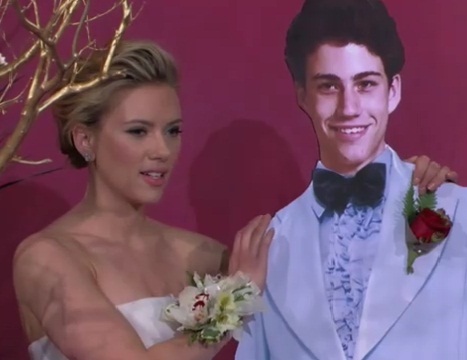 Back in March, Channing Tatum's and Jonah Hill's 21 Jump Street characters proved that "redoing" your old high school days doesn't go quite as smoothly as you might think. But the inherent problem was that their characters weren't rich and famous. Jimmy Kimmel, on the other hand, is rich and famous... famous enough to pull this off, anyway. May 4 on Jimmy Kimmel Live!, the host welcomed The Avengers star Scarlett Johansson to speak about her very anticipated film, which comes to theaters today. But hearing Black Widow's take on the making of the Marvel movie weren't Kimmel's only intentions...
Towards the end of the interview, Kimmel admitted to Johansson that he was on a mission to "erase" his entire childhood, and replace it with a far superior childhood. As such, Kimmel asked Johansson to accompany him to his senior prom. Although they only got as far as the pre-prom photos, that's probably enough for him to rub it in the faces of everyone he went to high school with.
And yet another motivation to eventually become rich and famous.
More:
Samuel L. Jackson Bashes Bad Avengers Review on Twitter
The Avengers Fly, Smash & Turn Dramatically Over Soundgarden's "Live to Rise" — VIDEO