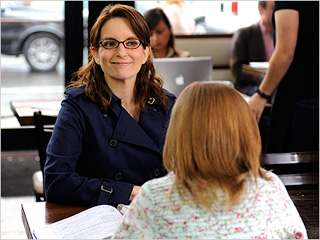 No need to go kicking your television just yet, NBC's cult edition of must-see TV Thursdays – Community, Parks and Recreation, and 30 Rock – all look poised to return next year, but in varying degrees. According to Deadline, NBC will likely be bringing 30 Rock back for a seventh and final season in the fall, but for an abbreviated 13-14 episode run. (Still no word on what would fill the void the rest for the remainder of the season, but fingers crossed for Queen of Jordan. I'll take that with cheese!)
But even with the prospect of less Liz Lemon, it seems like Parks and Recreation and, against all odds, Community fans may be getting more of what they want. Deadline also reports both comedies are "in the running" for renewals from NBC with Parks' return considered "likely."
If that makes you happier than the idea of Leslie Knope beating Bobby Newport for the City Council chair, then revel in this, too: Freshman, er, comedy Whitney seems to be on the chopping block. (On the other hand, fellow newcomer Up All Night seems to to have better odds of sticking around.) Can we get a "Pop! Pop!"?
Are you glad to hear that Parks and Rec, Community, and, even if only for a shorter amount of time, 30 Rock are on track to come back later this year? Sound off in the comments section below.
[Photo credit: NBC]
More:
Community Recap: Helter Skelter