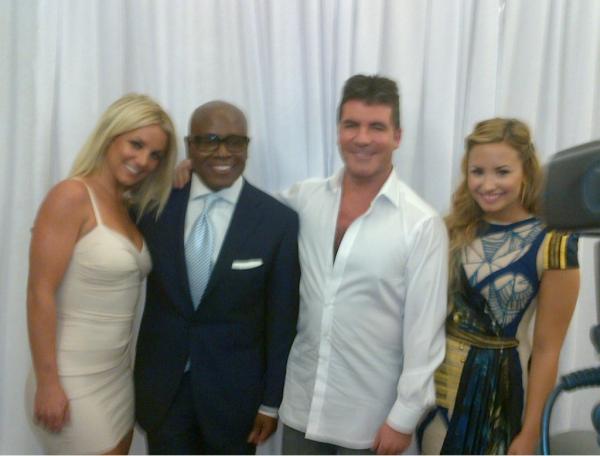 For months, the world (or at least TV fans) has waited with baited breath to see who would eventually occupy Paula Abdul and Nicole Scherzinger's vacant seats on The X Factor's judging panel. And today, at Fox's Upfronts presentation, we finally got some answers. The weeks-long rumors are true: Current teen idol Demi Lovato and former teen idol Britney Spears have officially joined the Fox hit reality series, joining Simon Cowell and L.A. Reid.
On his Twitter, Simon Cowell posted a picture of Spears and Lovato standing alongside him and Reid at Fox's upfront presentation in New York City Monday, along with the tweet: "Can't believe it's finally happened." Fox confirmed the news at the upfront shortly thereafter. (In early April, it was rumored Spears bagged $15 million for the deal.)
We'll have to prepare for an interesting season: Inside the upfront, Reid labeled Season 2 of
X Factor
, complete with its new judges' panel, the "Rolls-Royce of TV." Lovato, meanwhile, told reporters she was looking forward to bringing in a younger audience. "I'm excited to represent my generation," she said at the upfront. 
Earlier this year, Fox booted Abdul and Scherzinger from the panel following middling ratings for the first season of
X Factor
. Since their dismissal, the series had been dedicated to finding judging talent to rival the mentoring panel on NBC's star-studded 
The Voice
. (
The Voice
:
X Factor
 sees your Christina Aguilera and raises you an even
more
 famous Mouseketeer!) Clearly, they aren't concerned about their NBC competition — at the upfront, Cowell made a jab about
The Voice
 competing with
X Factor
.  Excited about the news? Or, like Hollywood.com's Brian Moylan, are you wishing
X Factor
 would
leave Britney alone?