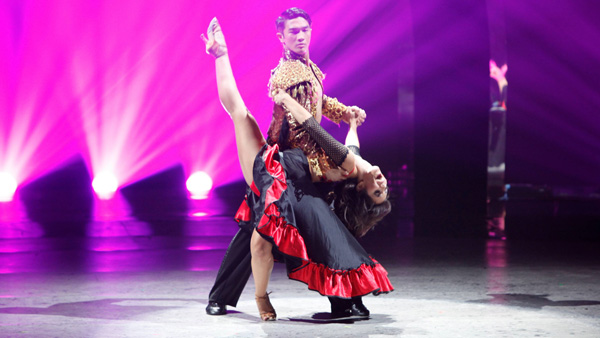 Get ready for the Hot Tamale Train to pull into Twinkle Toes Station because Mary Murphy (WHOOOOO-HOOOOOO!!!) and everyone on So You Think You Can Dance returns tonight for another season of trying to pick the best dancer who will soon join a chorus line on Broadway!
Seriously, I don't even remember who won last year, but there are a few things I'll never forget about this show, mostly the amazing dance routines that we get week after week. Here are my 10 favorites of all time. You'll see some recurring themes (hello, Katee, Joshua, and Twitch) but the one thing they all have in common is that they keep us coming back to this competition year after year. Jamie & Hok's Hummingbird: This is a love it or hate it, but either way, this Wade Robson duet in which Hok plays a hummingbird and Jamie mimics a flower is possibly the most imaginative the show has ever staged. Ramalama (Bang Bang): Sadly this year there will be no results show, but I hope that doesn't mean the end of the group number. What would we do without this delightfully daffy dead can dance vision?Katee and Joshua's Bollywood Blowout: The first time the show ever attempted the vaunted Indian dance style it was such a home run that it might actually make you weep. They try this style every year now, but it's never quite as good.
Alex Wong and Twitch Are Out of Their Minds: Former ballet dancer and current Newsies hoofer Alex Wong showed everyone the real meaning of swag when he teamed up with Twitch for this explosive number from Napolean and Tabitha. For some strange reason you can't embed any of the videos, so click to watch it here.Katee and Joshua Have No Air: This slow hip-hop number is another one that makes these two the best couple ever to perform on the whole damn show. Neil and Sabra's Awesome Dream: Two people never made a boring folding table look as sexy as finalists Neil and Sabra (the Season 3 winner) did while facing off to this classic Eurythmic's song. Mark and Chelsea Bleed with Love: Usually I'm not a big one for the slow hip-hop numbers, but this bittersweet story about a wife who doesn't want her man to leave to work has me convinced. This is the reason why Mark is now a fixture of Lady Gaga videos and Chelsea is now showing stars how to dance. Katee and Twitch Shut the Door: God, these two are just so good, and never better when they teamed up with one seriously abused door. I've never had a breakup so violent, but this makes me almost want one. Janette and Brandon Steal Our Hearts: Some people probably prefer this dynamic duo's disco number (seriously, did they ever perform a bad dance?), but my personal favorite is this gonzo performance in which they played a pair of bank robbers. On second thought, that disco number is pretty major too. Yes, the Bench Dance: This Mia Michaels Emmy winner is probably the most famous piece ever on the show. I'm not a huge fan, but I know I'd get hate mail if I left it off the list. It's still pretty darn good.
Follow Brian Moylan on Twitter @BrianJMoylan
More:
Lady Gaga Cries on 'So You Think You Can Dance'
'Step Up 4' Recruits 'So You Think You Can Dance' Stars