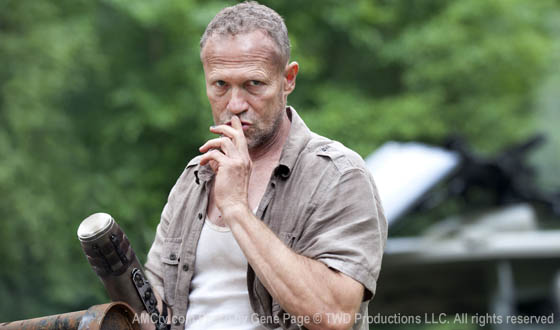 The Walking Dead
ditched its most ruthless character fairly early in the series, and since then, we've all wondered where the hell
Merle Dixon
could be. And we're about to get an answer. This newly released image from AMC proves that Merle didn't parish after he sawed off his own arm to escape Rick's handcuffs on the roof of that Atlanta department store. (Then again, a man who's willing to cauterize his own severed arm minutes after he sawed it off himself is one who's got some serious survival instincts.) 
And while we have seen Merle appear onscreen during the AMC series' second season, he possessed both arms and that was our signal that his brother Daryl had dreamt him up. (Well, that and all the other trippy places Daryl was taking us that week.) It was a fake out. Frustration ran rampant when we still weren't made aware of Merle's actual whereabouts. 
Well, my zombie-loving friends, this is our confirmation. No need to pinch your arm, because Merle has a brand-spanking new one where there should be a stump. The elder, slightly racist Dixon appears to have built himself a false arm/club for bashing zombies' heads in, which is a pretty good indication that Merle is no mirage this time around. 
The Walking Dead returns to AMC this October.
Are you excited to get more Merle?
More: