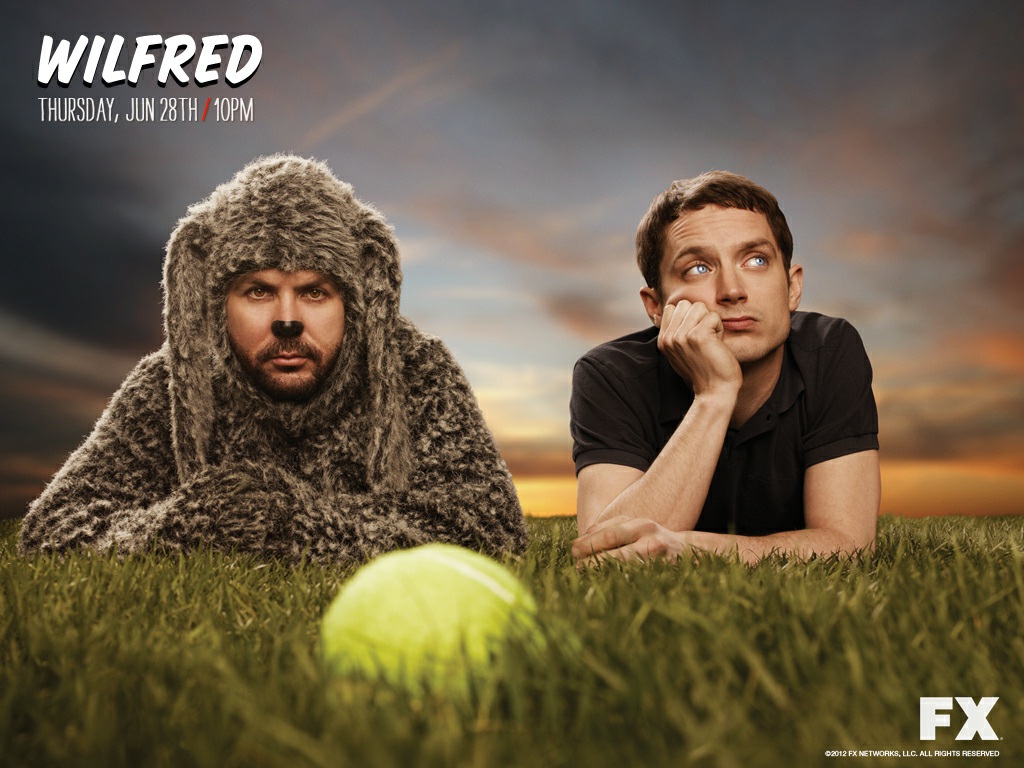 Elijah Wood is subscribing to the old "sometimes a cigar is just a cigar" ideology when it comes to his FX series Wilfred, also starring Jason Gann, which is officially entering its second season on Thursday, June 28 (following a "preview episode" on Thursday, June 21). While star Wood, who plays the hapless hero Ryan, openly celebrates some of his show's deeper and more cerebral elements, he acknowledges, "At the end of day, it's ... a guy another guy in a dog suit sitting around, smoking pot." So maybe "cigar" isn't exactly most"" accurate choice of words...
Hollywood.com got a chance to speak with Wood about his returning FX comedy, getting the actor's take on some of the deeper aspects of the series. Says Wood, "It's a very multi-layered show. It became even more multi-layered toward the latter part of the first season. I love that about it. I love that there are some episodes that aren't that reliant on comedy, that are actually about the characters and internally what's going on."
Of course, as fans of Season 1 know, some of the thicker episodes are interspersed with more traditionally comic ones. Wood proclaims that Season 2 will follow a similar routine: "The first few episodes back, we find ourselves in a familiar Wilfred space, in terms of the comedy and the constructs of the show. But as the season progresses, some of those existential questions and complications start to arise again. And we'll see more of ... his self-discovery, and growth, or lack of growth, as the season progresses. From Episode 7 on, it starts to become a little bit more like that."
As much as he loves the show, however, Wood admits, "I don't see this running seven, eight, nine seasons," affirming, "I would like to do this show as long as I feel there are stories to tell. What I would hate to happen is for us to tread over similar ground, and tell stories that are rehashing things we've already explored."
Wood opens up about some of the plot lines that fans will see over the course of the second season. Smallville vet Allison Mack is joining the cast as a coworker of and romantic interest for Wood's character, Ryan. Wood says, "What [Mack's character] represents for Ryan is a sense of normalcy ... Being in the workplace gets him out of being in the house smoking pot with the dog and allows him to grow, and to connect with people."
The actor has some of his own ideas that he'd like to see worked into the show: "I would love to see Ryan as Wilfred at some point, in some kind of strange, existential dream. I've always thought that imagery would be really weird." Naturally, weird is this show's bread and butter, and Wood appreciates this: "My favorite elements, sometimes, in the show are when the show gets really trippy, and you don't quite know what's real and what isn't. There are some episodes like that this season."
But as deep and psychologically rife as the show is, there is one question that Wood thinks nobody will ever know the answer to. "Bear's gender will never be defined," Wood laughs, referring to the gigantic stuffed animal to which Wilfred enjoys a chaotic romantic attachment. "We've actually taken to calling Bear 'it.' It's a totally ambiguous gender."
And though we may never get the answers about this facet of Bear's life, we will find out more about... it. Wood explains, "I love that character ... Bear is to Wilfred as Wilfred is to Ryan, in a way. It's clearly something that is internally happening with Wilfred. We definitely explore that a little more this season. It's very funny."
[Image Credit: FX]
More:
Jerry Seinfeld to Guest Star on 'Louie' This Season — EXCLUSIVE
Ashley Tisdale Takes Racy Role on 'Sons of Anarchy'