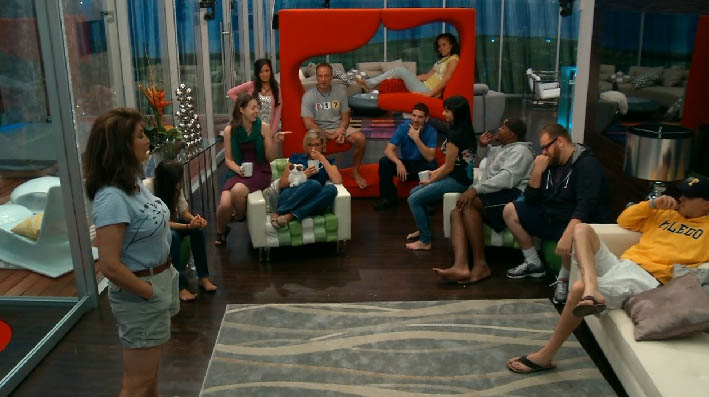 You have to ask yourself why CBS is continuing its lawsuit against ABC's Big Brother wannabe Glass House considering that it is doing so miserably. In fact, the show's awful ratings may be the only thing helping ABC's case right now.
For those not following this reality TV squabble (which is as vicious and mean-spirited as anything that happens on reality TV) CBS filed suit against ABC for stealing its trade secrets and intellectual properties when ABC hired a former Big Brother producer and a bunch of former staff members for The Glass House, a strangers-in-a-house-with-the-world-watching show that seems similar to summer staple BB. The big difference? On Glass House America does the voting.
CBS is having a hard time making its case stick. First a judge denied its motion to stop production and airing of Glass House, which premiered June 18. Yesterday a judge denied CBS's motion for expedited discovery (the phase of a lawsuit where each side gets to investigate to make their claims in court). It's mostly just legal mumbo jumbo, but what shows is that the judge seems to think that Glass House poses no major danger to Big Brother.
The ratings support that. The show premiered to dismal numbers and tumbled the second week by 20% according to Deadline. Part of CBS' burden in court is to prove that Glass House will somehow damage Big Brother's ability to make money and it makes money by getting ratings. If no one is paying any attention to Glass House that's going to be very hard to prove.
And why aren't you watching Glass House, because I am obsessed with it. The second week only got better when America's decisions about which housemates are safe and which are in trouble is already leading to changes in the contestant's behavior and strategy. Apollo went from trying to be "honorable" in week one and devising a complicated system where her votes for another member of the house to be nominated for elimination based on drawing cards to being the kind of jerk who throws a teammate under the bus in order to save himself from elimination. It only took one week, and it's all because America didn't vote to keep Apollo in the house. If that's not enough, Holly got caught lying about her major in college and when she finally confessed that it was psychology, the housemates pressed her to name one psychologist. After vamping for several minutes she finally said, "Dr. Phil." That was all she could think of! Now they don't believe that she was a psychology major either! This is reality TV gold, people, but sadly it looks like it's going to end up being nothing but a footnote in some legal battle.
Follow Brian Moylan on Twitter @BrianJMoylan
More:
Everyone Needs to Move Into 'Glass House'
Everything You Need to Know About 'Glass House' Our Newest Summer TV Obessions
'The Glass House' Case Continues: Making Sense of ABC's Latest Argument