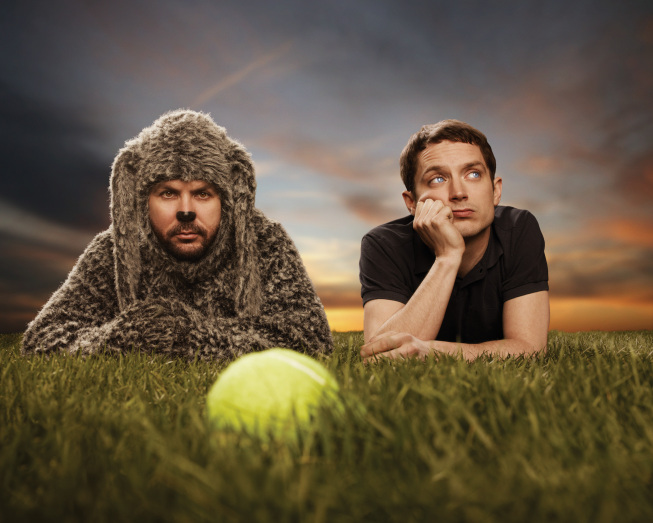 Summer TV is going to get a lot stranger tonight, as Wilfred — the show that star Elijah Wood describes as "a guy and another guy in a dog suit sitting around, smoking pot," — makes its official return. Last week, the show aired a completely bonkers "preview episode" that featured Robin Williams (playing his Good Will Hunting character, natch) as Ryan's (Wood) dream-therapist, and answered the cliff-hanger that teased fans all summer. To sum it up, it's official: The basement that Wilfred (Jason Gann) and Ryan smoked pot in throughout season 1 is indeed real, and someone must have gone through great lengths to cover it all up. Someone who doesn't want Ryan to hang out with the all-knowing Wilfred, perhaps? Wood and Gann couldn't talk about the basement bandit when they caught up with Hollywood.com earlier this month, but they did doggy-dig some dirt on an increasingly bananas season 2.
Last year, guest star Dwight Yoakam (who will be returning this season) made a serious case for team "Wilfred is real," but Gann tells us that even he's not quite sure sometimes. "It's a constant arm wrestle in the writing room, whether Wilfred is real or not," Gann says. "[Producer David Zuckerman] and I debate as to whether he was conjured up by Ryan's madness. I come from the perspective that he's more like this magical creature. Then I started coming around and saying, 'I think it's in Ryan's head.' Then David said, 'I think I'm coming around to the magical creature thing.' So we don't know."
Real or not, Wilfred and Ryan's relationship is going to see some major changes in season 2. Ryan will have a love interest (recurring guest star Alison Mack) to finally distract him from Wilfred's owner Jenna, and Wilfred hasn't exactly been the best wingman in the past. Still, Gann thinks that Wilfred can definitely be considered man's best friend. "I definitely think he's a good influence on Ryan," he says. "He genuinely has his best interests at heart. But because he has been tricked so many times, Ryan doesn't trust him."
Wood says that this lack of trust will lead to a power struggle, and that Ryan may actually come out on top this time around. "Ryan's a little bit more aware of the ability of Wilfred to trick him," Wood says. "I think he is constantly trying to look ahead to any of the things that Wilfred is suggesting to possibly be a trick or a manipulation. There is a bit more of a fight between them; a struggle between the two of them this time around. Ryan is a little bit less passive. He's a lot more active in trying to almost stay ahead of Wilfred. He's not always successful, but he has his eye out. He's keen on where Wilfred could potentially be taking him this time around."
When asked where Wilfred actually is taking Ryan this time around, Gann said that Wilfred's needs are a lot more basic than one might think. "Wilfred has got his own agenda," Gann explains. "He's still a dog, so he just has the basics— to populate, eat, and sleep on the bed. Things like that."
Still, Gann assured us that we'll be seeing a whole lot more than just sleeping on the bed. Gann, Wood, and the writing staff put a lot of thought into out-crazying their madcap season 1. "I thought, 'How do we top Wilfred pole-dancing, and getting molested at Doggy Day-Care?'" he says. "That's really deep out there. But we did. This season goes more out there. Also, it gets darker. I think it's funnier, actually."
One element that was particularly "out there" last season was Wilfred's relationship with Bear, Ryan's potentially imaginary friend's imaginary friend. Thankfully, Gann says that Bear will be back and better than ever. "We used Bear in a bunch of really good spots," he says. "I was shooting a scene with Bear, and it just turned into really violent sex. It just happened off the cuff, and it really worked. Definitely Bear is featured strongly in season 2, and plays a pivotal role in Ryan's life as well as Wilfred's."
Sex with a "pivotal" stuffed bear, weed smoking, and power struggles between man and beast — yep, sounds like Wilfred to us. We're glad this zany series is back, and Gann says that's all thanks to one thing — your dogs. "We call them dog-isms in the writer's room," he says. "We find particular dog behaviors that people can recognize, and articulate them in the human form. It's a regular thing that audiences really respond to with Wilfred. We're being conscious of finding more things this year. Just when I think, 'That's it. There's nothing else that dogs do. We've covered it.' There's always one more thing that dogs do. As long as dogs keep coming up with crazy s**t, then I've still got a show."