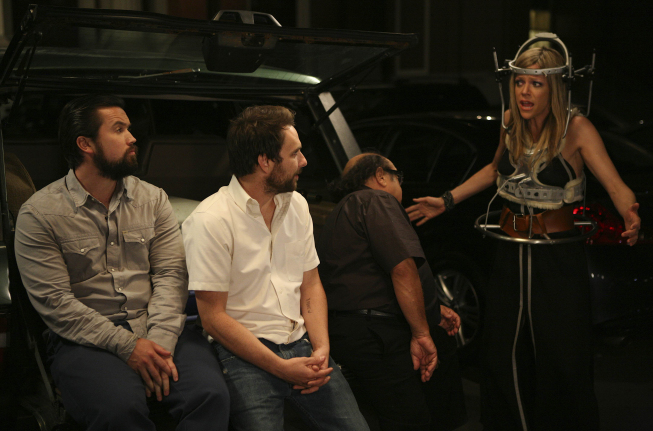 You love them, we love them, and it's high time Emmy recognized them. We're talking about the TV actors and actresses who have yet to be recognized by the Academy of Television Arts & Sciences, despite drawing us in week in and week out with their awe-inspiring ability to make us laugh, cry, or a weird combination of both. So every day here at Hollywood.com, we're going to be saluting those on the small screen who deserve an Emmy nomination, longshot status be damned. Today, we cast our ballot for It's Always Sunny in Philadelphia star Kaitlin Olson.
It's no simple feat to name the funniest female on television. In fact, in the past 10 years, the TV landscape has been so friendly to men's other half — green-lighting sitcoms and series starring women as hilarious as they are unconventional — it's no wonder they call it the "boob tube." Tina Fey, Amy Poehler, Julia Louis-Dreyfus, Sofia Vergara... how can one choose a favorite?
But if I had to name the funniest lady on television, I would choose young Ursula Parker, who plays Louie's precocious daughter Jane, the only kid on TV who truly nails the adorable assholery parents experience on a daily basis with their children. But as much as I'd love for the young Parker to score a well-deserved Emmy nomination ("I... am... BORED!" has become as much of a catchphrase in my household as anything ever uttered by Jerry Seinfeld), she neglected to submit for one in 2012. So, instead, I have no choice but to root for the second funniest female on television: It's Always Sunny in Philadelphia's Kaitlin Olson.
And I'm glad I'm getting the opportunity to salute Sweet Dee, the series' vain, sadistic, and alluringly vulnerable female pro(or is it an?)tagonist. After all, Olson has been tragically under-appreciated during It's Always Sunny's seven-season run. Blame society's apprehension to truly admit a woman can be just as funny (or funnier) than her male co-stars. Or blame, far more simply, the scene-stealing prowess of Charlie Day. But just watch Season 7's "Sweet Dee Gets Audited" for proof of how much Olson deserves special recognition apart from the ridiculously talented cast. We're talking about an actress who can take any delicate, sensitive subject, and expertly pervert it into shocking storyline that makes you wonder whether 22 minutes of television could send you straight to hell. And, yet, after all that, you're still rooting for Sweet Dee.
Credit Olson for being able to make you cheer for a woman you hope never to meet your entire life. She is one of the most unique actresses currently on television, playing a woman with little to no redeeming qualities outside of her ability to heavily binge drink. Still, Olson brings a certain depth to Sweet Dee that allows 
Sunny
 fans to justify the character's outlandishly terrible behavior. Perhaps that's because over the course of seven seasons, Olson has managed to morph Sweet Dee into our id, our inner (aluminum) monster who would follow through on the basest of revenge-seeking actions if given the opportunity. Sure, she lashes out against her own loved(?) ones after getting in with the cool kids in "The High School Reunion," but after enduring a decade of scoliosis-themed taunts, wouldn't anyone succumb to peer pressure weakness? Sure, she applies to become a surrogate (and eventually
does
 become one) purely for the cash, but who hasn't had pondered just what it would take for us to act on an immoral get-rich-quick scheme? And, sure, she takes a dumpster baby to a tanning booth in order to make him more attractive to modeling agencies, but... okay, so there are some things we just wouldn't do. (Of course, we're not
everyone
.) 
Not to mention the fact that Olson is one of the most gifted physical comediennes on television. In fact, I started rooting for her future Emmy chances the second I saw her roll down a hill (and channel Grape Stomp Lady) in "The D.E.N.N.I.S. System." The manic laughter, the clumsy feet, the way she can keep up with an Air Dancer... Olson comes from the same school of physical comedy as former Emmy winners Lucille Ball, Debra Messing, and Louis-Dreyfus. Add that to her spit-out-your-beer delivery of lines like "I will eat your babies, bitch!" and the actress' moxie (Olson once told me that she strongly lobbied for Dee to be just as terrible as the rest of her Paddy's cohorts, and not just act as "the girl" amongst horrible men), and it's hard not to hope that Olson will soon boast the award notoriety of comedy's most talented lady legends.
So why hasn't Olson — or any of her Sunny co-stars for that matter — ever been nominated after seven seasons on the air? The Academy certainly hasn't held back on rewarding horrible characters in the past. (See: Louis-Dreyfus' Elaine on Seinfeld, Jane Lynch's Sue Sylvester in Glee.) Though there's no justification (I have many times thought of unleashing Night Man on the Academy after their snubs), I'm hoping the Academy's new outlook on cable will spell bright things for Sunny, especially after fellow FX dweller Louis C.K. found himself nabbing a deserved nomination in 2011. If the Emmys continues on this trend, perhaps Olson will not be such a longshot. And wouldn't that be Sweet (Dee)?