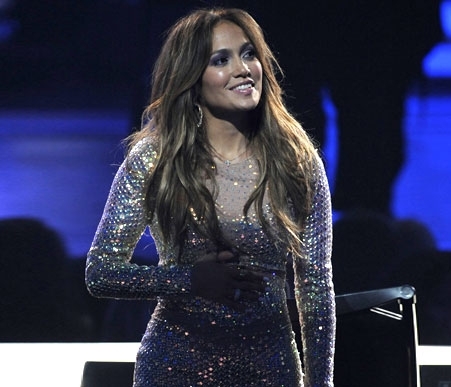 The ongoing game of musical chairs being played at the judges' table at American Idol might go another round. During a visit to The Today Show, actress/singer/wearer of all things shiny Jennifer Lopez more or less announced that after two seasons of sitting next to Steven Tyler and Randy Jackson, she's ready to go. (Hey, you try listening to your co-worker call you "dawg" all day.) 
When Today's Natalie Morales asked Lopez, who was there to promote her latest movie Ice Age 3: Continental Drift — The Squeakquel: Ghost Protocol, if she'd be back for Season 12, the 42-year-old said, "I am thinking that it's time for me to go." 
The singer continued, "I've loved it so much. I've enjoyed the show so much. I enjoy just the whole process of the show... It's a tough decision either way. It's a heartbreaking decision if I have to go." 
The multi-tasking mother-of-two didn't give an exact reason why she likely won't return (unless, maybe, they allow her to have a
Joshua Ledit
recount). She did, however, hint that she wanted to get back to other aspects of her life, be it family or career or her occasionally shirtless boyfriend
Casper Smart
. As Lopez put it, "I have to say there are so many things I do that I put on hold for [
Idol
.]" 
While nothing is set in stone — Lopez said she's coming to her conclusion "little by little" — she certainly made it sound like she was saying her goodbyes. "I love all the guys on the show, I love the family that's there," Lopez continued. "But I am thinking it's time for me to go and do other things I love to do." (Fox has no comment regarding Lopez's statements.) 
Then again, this isn't the first time Lopez has publicly stated she
might
just leave Idol. Last year Lopez said during an interview with BBC's Radio 1 that she was "on the fence about" returning for Season 11, only to return for Season 11 after getting a nice little
payday bump
from Fox. So, now it's just time to play another
Idol
game: the waiting game. 
[Photo Credit: DailyCeleb.com] 
More: 
Jennifer Lopez Tops Katy Perry, Justin Bieber With Huge Perfume Sales