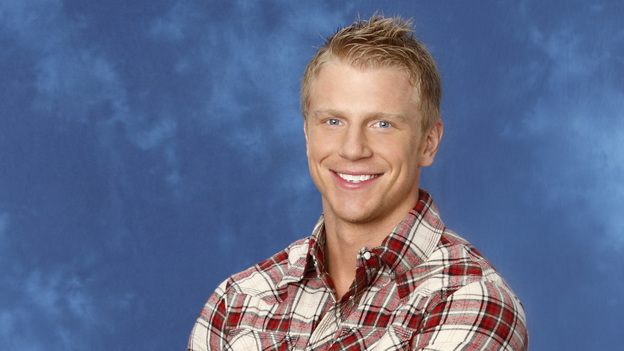 When Sean Lowe was eliminated from The Bachelorette by Emily Maynard, most fans of the show weren't surprised. Sure, they had a lovely connection between the two of them, but those watching from home knew that Jef and Arie were the men to beat. Unfortunately for Sean, that knowledge wasn't easily attainable on the other side of the lens, so homeboy had his heart hurt, big time.
But he's taking it in strides, it seems--which shouldn't be too hard, since there are rumblings that he may be being considered for next season's The Bachelor. And what does Sean think about all of this? " It would be a difficult decision, if they were to ask me, only because it was so emotionally taxing and I don't know if could go through that again. On the flip side of the coin, I understand that the process works. I believe in the process and ultimately if I were to find my wife, it would certainly all be worth it." The process! The process!
And if he was to be chosen, what would make him such an ideal candidate? Well he said, "I don't want to sound like I'm selling myself but I think people have come to understand that I'm genuine, I'm loving and ultimately I want to find love."
Fans of the show are aware that Sean's genuine love of love was what endeared him to people, and also made him a frontrunner from the get-go, but also what possibly clouded his vision about his standings in the competition. "To see her have such stronger feelings for two other guys, it helped me because I might have built it up a little more than it really was in my head, thinking Emily and I had this strong relationship," Sean explains. "I'm pretty sure she made a mistake. At the end of the day, her relationship with Jef and Arie was just as strong, if not stronger, so it was good for me to see that. It helped me move on a little bit quicker."
Was it heartbreak? Yes, says Sean. "It was pretty difficult to get over. That was the first time I had ever experienced heart break in my life and I was certainly prepared to be a stepfather and get married and Now that we've had some time and distance, I think she ultimately made the right decision. Shes not the one im supposed ot be with for the rest of my life, so in a way, im thankful it ended where it did for me."
In the end, it comes down to Arie and Jef--so who does he will win the competition? He's tight-lipped, but open to complimenting his fellow men. "I think Jef is his own person, which would probably be an attractive quality to most women, and he's really funny and he's fun to be around. Arie is kind of his own person, too. He's got that European flair to him where hes not the macho American guy like we're so used to."
We have to wait two weeks until we see who gets down on one knee, but the men will be telling all (as they say) next week, and we're hopeful that there's more dirt to be spilled once the cameras are rolling. What do you think about Sean's exit? Sound off in the comments!
Additional reporting by Lindsey DiMattina
[Image Credit: ABC]
Follow Alicia on Twitter @alicialutes
More:
'The Bachelorette' Recap: The Crying Game
'The Bachelorette' Recap: Homeward Bound