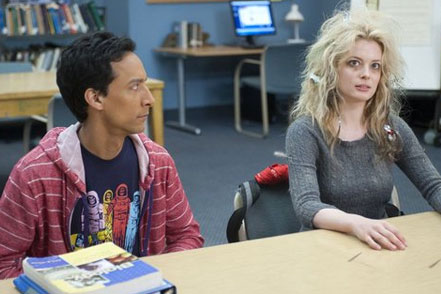 Community
is all about taking the good with the bad — that's what you get from a show about seven people forming friendships to make up for the emptiness and turmoil elsewhere in their lives. The San Diego Comic-Con panel for
Community
certainly reflected the bittersweet nature of the series, as it opened with a music-backed montage of some of the highlights from the spectacular Season 3, and a reminder that the series will be taking a new slot on Friday nights from here on out. However, the mood didn't stay somber for long — the emphatic introductions of the cast included a fan favorite running gag: referring to series star
Joel McHale
as Ryan Seacrest. One of the biggest controversies about the future of
Community
involves the replacement of series creator
Dan Harmon
as showrunner with two newcomers —
David Guarascio
and
Moses Port
. The new leads on the program expressed their appreciation for the series, and pledged to keep it the
Community
fans know and love: "A couple of months ago, we were just like you. Fans of the show who thought it was one of the most special things on TV. Now we're here, helping to keep it going. The only thing we care about is keeping it this special gem that it's been, and that's not going to change." And although the stars themselves have always expressed appreciation for
Community
's devoted fan base, you can't expect McHale to say anything
truly
sincere without a bit of snark peppered in: "Your flash mobs and fake beards and blood sacrifices culminated into the greatest fan base any show has ever had in the history of television. So if we do get cancelled after 13 episodes, I blame you." Obviously, fans are approaching Season 4 of
Community
with hesitation — Guarascio and Port are not blind to this, and are even willing to acknowledge it outright. "The easy part about it is," Guarascio said, "we are fans of the show first, and observed it from afar thinking, 'Wow, how amazing is that cast? How amazing would it be to write for them?'" Following his partner's illustration of the series as "a beacon," Port concisely added, "We're not going to screw it up." Along with a few musical highlights from the cast —
Alison Brie
singing a quick, "Troy and Abed
and Annie
in the morning!" (to costar
Danny Pudi's
mock disgust); Pudi giving the audience a rendition of the Christmas rap from "Regional Holiday Music," followed by McHale's exclamation of, "That's right motherf**kers!" — some interesting bits of information about where the study group's journeys will take them were revealed. After a hint that guest star Nick Kroll and his band of German bullies from the episode "Foosball and Nocturnal Vigilantism" "might be coming back," Guarascio revealed two interesting locations that Season 4 will take fans: "We're going to get to see Pierce's mansion, to see the twisted world where Pierce lives." But even more exciting than that is the promise of "an Inspector Spacetime convention," which inspired an incredible amount of enthusiasm from the crowd. And best of all, McHale's suggestion that just maybe, the Dean might have another floorgasm. A big addition to the
Community
universe this past season was the budding relationship between Britta and Troy. Britta portrayer
Gillian Jacobs
discussed the tender nature of this kind of story: "I think it's a very delicate line these guys walk between having sparks and farts and not sending us into the realm of a relationship show. I just do the hugging." And she demonstrated this quite literally, when a fan professed his adoration for Jacobs by announcing that every time he sees her, his heart beats. Jacobs responded by rushing down into the crowd and giving the young man a hug (
much like Pudi did for a fan during this year's Paleyfest
), declaring, "Now that I've seen you I know what a heartbeat feels like." A very sweet moment… and one that likely incurred jealousy in the beating hearts of every other fan present. But back on the topic of Britta and Troy, Guarascio did tease, "The sparks turn into a little bit of a fire." Among the other fan proclamations was an expression of gratitude from the crowd for
Community
's respectful and empowering portrayal of Asperger's through the character of Abed. As for the future of the characters, there are still a lot of unanswered questions. When asked about who might play his character's father, McHale joked, "
Eddie Murphy
, everybody.
Pluto Nash
himself." The cast also speculated on where their characters might find work after community college.
Yvette Nicole Brown
, who plays Shirley, opted for the sincere ("Sandwich shop"), with Pudi and Jacobs following suit, to reasonable degrees: "the video department at Greendale," and "a one-eyed cat shelter," respectively. But of course, there were a few jokes. Brie made things meta by suggesting, "Annie would move over to
Childrens Hospital
on Adult Swim," and McHale opted, once again, for the snark with the simple phrase, "Armani Exchange." Attending fans were treated to a gag reel (see embedded below!) from the
Community
Season 3 DVD (which comes out August 14, and will keep tradition of offering audio commentary for every episode, along with twenty minutes of outtakes and a "special look" at the episode "Pillows and Blankets"), as well as a compilation of the multitude of fan videos created as a tribute to the influence of the NBC sitcom. Among the bits featured in the compilation include the
30 Rock
groupies singing "Christmas Troy," fans declaring how
Community
helped them through difficult times, and one devotee in an Inspector Spacetime outfit. Clearly,
Community
has had a tremendous impact on its cast. Although Season 4 might be the one we're heading into with the most apprehension, this panel proved that the show is still worth being excited about. If only to see that floorgasm.
Follow Shaunna on Twitter @HWShaunna
[PHOTO CREDIT: NBC]
MORE:
'Community': Why It's Okay that Dan Harmon's Show Is Over
'Community' Hires New Showrunners; Dan Harmon Blindsided — UPDATE
10 'Community' Episodes That Couldn't Exist Without Dan Harmon