Award shows are rough. Sometimes, the planets align and the most admirable nominees become thoroughly deserving winners (here's looking at you, Modern Family Season 1); other times, the industry goes into freak-out mode when an unexpected win shakes the system (even Edie Falco didn't know that Nurse Jackie was a comedy!). Then, perhaps, there's the most tragic of all award show misfortunes: the infamous Emmy oversight. These are the cases of the meritorious should-be nominees, the actors and actresses who don't make it onto the ballot, yet whose shows would lack the key ingredients that make them successes in the first place should the non-nominees depart.
What's Parks and Rec without the marvelous, mustachioed Nick Offerman? Revenge without Madeleine Stowe's perfectly icy gazes? It's Always Sunny in Philadelphia without the never-sunny-yet-always-Sweet (Dee) Kaitlin Olson?
Over the last few weeks, our writers have made their case for a host of performers who should have gotten the call from Emmy long ago, but who have yet to be nominated for their often irreplaceable roles on television's best (and sometimes not-so-best) shows. Here are some choice excerpts:
Kelly Schremph on Smash's Megan Hilty (Ivy Lynn): "Hilty brings more to the table than just her musical chops — she (or rather her multi-layered character) also brings tons of drama. Hilty provides a depth to the series in areas where everyone else falls short. She conjures up just as much emotion in her onstage performances as she does to her offstage antics. Ivy has faced a rollercoaster of emotions throughout the first season and, in doing so, has really carried a majority of the plot. Think about it — without Hilty's scene-stealing moments and grand musical numbers, would Smash really be... well... a smash?"
Michael Arbeiter on Happy Endings' Adam Pally (Max Blum): "The humor and the softer side of Max are both attributed to the glorious performance of Pally. He makes the character mean, but lovable. Hilarious, but sad. Max is more than just a wise-cracking sidekick; he's a lonely man, stuck in the only routine with which he's comfortable. The way Pally carries Max through each episode is not only entertaining — it's extremely artistic. He's constantly looking for love all the while pushing it away. And he throws in a handful of Goonies references and sardonic remarks to boot. While everyone on Happy Endings should be applauded, Pally is the reigning champion."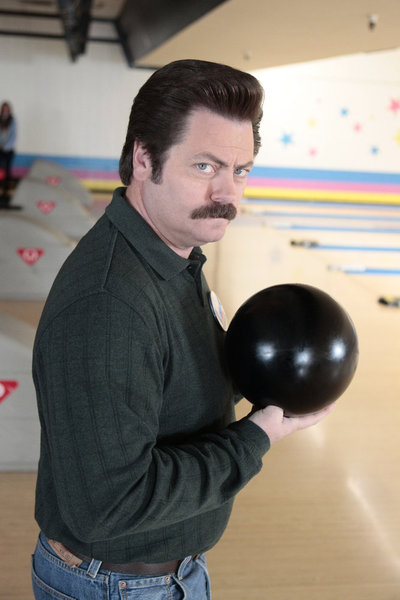 Kelsea Stahler on Parks and Recreation's Nick Offerman (Ron Swanson): "…let us consider that Offerman's talent extends beyond delivering hilarious one-liners with the anti-gusto that makes his brow-furrowed character who he is — though you've got to love the way he grumbles about anything that isn't steak, whiskey, or breakfast food. His greatest contribution to the character is the fact that he can quite literally steal an entire episode with only a single, fleeting expression… while much of that credit goes to the writers, the creation of any great TV character is born out of a symbiotic relationship between an actor and the folks who put words in his mouth. Without Offerman, there is no Ron Swanson."
Aly Semigran on Girls' Zosia Mamet (Shoshanna): "While other actresses would have been tempted to play too over-the-top or underplay Shoshanna's less attractive qualities (a spoiled rich girl with all the luxuries of Manhattan life at her disposal whose main objective seems to be finding a man), Mamet has carefully crafted her character into a motormouth princess who you would likely avoid in real life, but whose every sped-up word on Girls you hang on to. ('I'm so happy to see you, I could murder you.') Not to mention, she's the most likable one of the bunch… Mamet has made the playful yet nuanced Shoshanna both Girls' colorfully dressed black sheep and the one viewers most want to include in their own gang."
Shaunna Murphy on Mad Men's Kiernan Shipka (Sally Draper): "Shipka manages to steal every scene she's in. Though we love our Peggy, our Ken, and our Joan, it's Sally's experiences that are the most universally relatable, and it takes a very talented actor to make those experiences so emotionally powerful for the adults who went through them decades ago. Shipka makes it seem easy, and though we love Sunday night television's other female teen powerhouse (Game of Thrones' Maisie Williams as Arya Stark), it's Shipka that deserves the Emmy nomination this year. Thanks for making our own adolescence seem a little less terrifying in comparison."
Brian Moylan on Revenge's Madeleine Stowe (Victoria Grayson): "So often on television dramas you see the characters boiling over into histrionics and crying jags and pleading scenes where they're just asking for one man to love her. Never Ms. Stowe. It is all about control with her, not only of the other people around her, but over her own emotions. So often the Emmy goes to someone who is completely unhinged (congratulations on your inevitable victory, Claire Danes), but I think it's time that we bestow a trophy for the rarest of dramatic gifts: restraint."
Alicia Lutes on Veep's Julia Louis-Dreyfus (Selina Meyer): "Louis-Dreyfus has been in the game for ages, so she knows how to jump from cold to vulnerable to tedious to frazzled to sad to uppity to out-of-touch with a fluidity that is rarely seen in even the most practiced of dancers. Timing is everything in comedy, and when your comedic platform discusses the frenzied, constantly-moving multi-headed beast that is politics in America, well, you've got your work cut out for you. But not our girl Julia — oh no, no, no. She is in charge of at least one thing as Selina Meyer, and that is her comedic brilliance. There's no better sort of take-down than a comedy take-down, and home-girl is giving it to us."
Matt Patches on Awake's Jason Isaacs (Det. Michael Britten): "Issacs understands Britten in a way that makes him indefinitely malleable — a key to his ability of slipping back and forth between worlds. The perfect example of Killen's curveball-after-curveball strategy comes when Britten 'loses' his son's reality. Britten's groove is completely thrown off and Isaac sells it. Sometimes it's breakdown, breakdown, breakdown with Awake, but it always works thanks to Isaac's everyman quality. It's hard to imagine the man as the same guy who embodied the dastardly evil of Harry Potter's Lucius Malfoy."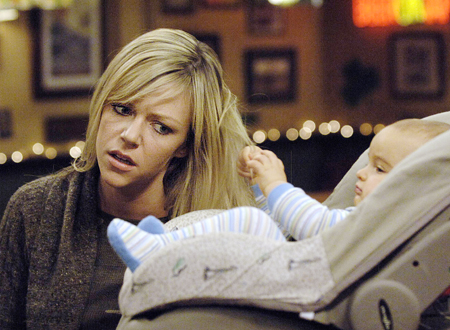 Kate Ward on It's Always Sunny in Philadelphia's Kaitlin Olson (Dee): "Credit Olson for being able to make you cheer for a woman you hope never to meet your entire life. She is one of the most unique actresses currently on television, playing a woman with little to no redeeming qualities outside of her ability to heavily binge drink… Not to mention the fact that Olson is one of the most gifted physical comediennes on television. Olson comes from the same school of physical comedy as former Emmy winners Lucille Ball, Debra Messing, and Julia Louis-Dreyfus. Add that to her spit-out-your-beer delivery of lines like "I will eat your babies, bitch!" and the actress' moxie (Olson once told me that she strongly lobbied for Dee to be just as terrible as the rest of her Paddy's cohorts, and not just act as "the girl" amongst horrible men), and it's hard not to hope that Olson will soon boast the award notoriety of comedy's most talented lady legends."
Kelsea Stahler on Shameless' Emmy Rossum (Fiona Gallagher): "Fiona's load of issues is too much for one person, and taking on such a character is a feat for only the most talented, nimble actress. Rossum is just that. She tackles the mile-a-minute, inconsistent road of the Gallagher family rock with ease, switching from hot-and-heavy romance to motherly affection to stern, familial protector to losing her mind in the span of a single episode. She struggles with the feminist issue of being the eldest daughter and therefore being charged with the duty of taking her mother's duty while her brothers frolic with their teenage tryst-mates. Rossum juggles the actress' equivalent of her character's harrowing load and she does so flawlessly."
Michael Arbeiter on Community's Danny Pudi (Abed): "While Pudi might be written off as a quirky sidekick character, he's actually the lifeblood of Community. He's the character with the most riveting emotional makeup, and quite often the character that commands the biggest laughs. Abed can most likely rattle off every Emmy winner in TV history. If there's any justice in the world, he'd be adding Danny Pudi's name to that list this fall."
Alicia Lutes on Parks and Recreation's Aubrey Plaza (April Ludgate): "In the world of comedy these days, awkward is king. And no one makes us feel more uncomfortable than Aubrey Plaza. And we mean that as a total compliment. No one has mastered the art of deadpan quite like her — and on a sitcom peppered with the hyper-enthusiasm of Leslie Knope, Tom Haverford, and her own husband (on the show) Andy Dwyer, her distaste for pretty much, well, everything is a fantastic foil for the show. To make a character like that not seem tedious and overdone is definitely no easy task, and April Ludgate-Dwyer's evolution over the past few seasons has shown her range. She is more than just the sarcastic girl, and for that we love her."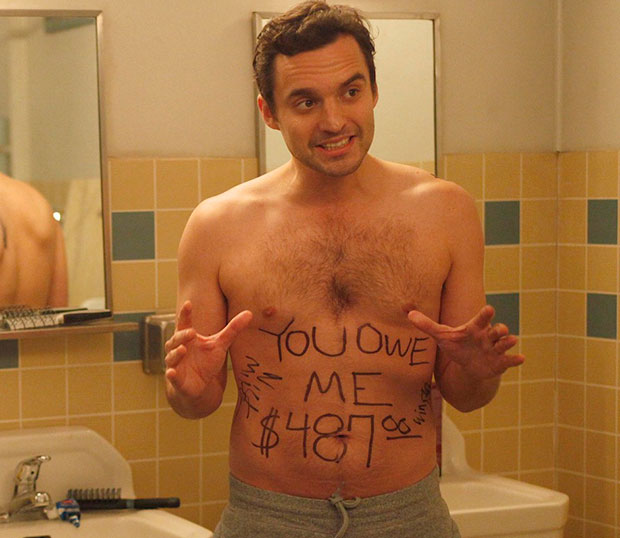 Brian Moylan on The Real Housewives of Beverly Hills: "That is why RHOBH is one of the best shows on television. It is like a gorgeous palace that was built on a tar pit and everyone once in awhile, the black ooze starts to bubble up all around it and all the ladies pretend like nothing is happening, like we can't see the inevitable disaster, but it's all there, all their hopes and fears, all their shattering omissions, all their deep dark regrets and bad behavior. It's all right there for us to see, and just like Willy Loman, that other great American tragic figure, demands: attention must be paid."
Kelly Schremph on Once Upon a Time's Robert Carlyle (Mr. Gold/Rumpelstiltskin): "…if there's one thing audiences love, it's a challenge. Carlyle gives us something to dissect and continually propels the plot forward with his double-crossing antics. It's impossible to determine which side he's really on, which makes him all the more enthralling and a bit of a wild card. Basically, Carlyle has the uncanny ability to spin character development into gold... The writers may be the creators, but Carlyle brings it all to life, keeping the audience on their toes right up to the very last mischievous laugh."
Aly Semigran on New Girl's Jake Johnson (Nick): "A great straight man stands back and lets the leading lady or pratfall man take the center stage, an unsung hero who effortlessly elevates the material with a biting quip or thoughtful detail. He is the ultimate secret weapon to making an ensemble tick, something Jake Johnson most certainly does every week on New Girl. It's not as obvious or sexy to nominate or reward subtle work, but if anyone is a testament to be an unassuming, unexpected delight, it's Jake Johnson."
[Photo Credits: NBC/FX/Fox]
More:
2012 Emmy Longshots: Nick Offerman Had Us At "Meat Tornado" 
2012 Emmy Longshots: Happy Endings Bear-in-Winter Adam Pally 
2012 Emmy Longshots: Shameless Star Emmy Rossum, the 20-Something Matriarch