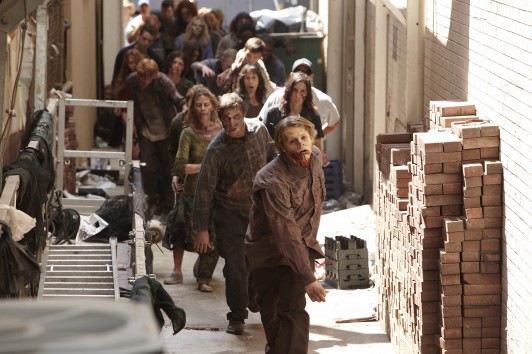 Have you ever wanted to see if you could survive an actual zombie apocalypse? See a psychiatrist, freak! Or, if you don't have health insurance, you can head to Universal Studios in Hollywood OR Orlando this fall, as both theme parks are teaming up with AMC to create vivid reenactments from their undead hit, The Walking Dead. Fans of the show (and zombies in general) can run from the undead in a series of 10-12 environments pulled straight from the tube, including the pilot's hospital and the first season's campsite.
In an interview yesterday, Universal's John Murdy revealed that this will be the first time that Halloween Horror Nights will include horrors from the small screen. "Ever since The Walking Dead first premiered on AMC back on Halloween night in 2010, we've been huge fans of this television show," Murdy says. " It had everything that we look for when it comes to Halloween Horror Nights. Great environments and iconic characters. Which is why we then reached to Greg Nicotero, the co-executive producer of The Walking Dead, to see if he'd be interested in working with us to reimagine this hit AMC series as a maze."
According to Nicotero, the decision to work with Universal wasn't a tough one — he's been a fan of HHN for years. "I'm like one of those truly hardcore fans," Nicotero says. "So when Universal came to us and said that they'd like to create a Halloween Horror Nights maze which would give fans of The Walking Dead the opportunity to place themselves inside the show and then experience scenarios that came straight from season 1 and season 2, I immediately said 'Yes.'"
The scenarios Nicotero plans to include won't just be set pieces — he will use the same molds and make-up pieces from the show to recreate such hits as Bicycle Girl and the Well Walker. "With The Walking Dead, we want to make fans of the series feel like they are literally walking in the footsteps of the show's characters, experiencing all of the horrific events from the series just as they experienced them," explains Murdy. "The goal is to make guests of Halloween Horror Nights feel like they are trapped in the world of The Walking Dead, using all of the attention to detail and movie-quality production values that Halloween Horror Nights has become famous for."
In other words, "F*** you, Knott's Scary Farm!" Check out the video below:
Follow Shaunna on Twitter @HWShaunna
[PHOTO CREDIT: AMC]
MORE:
Comic-Con 2012: 'The Walking Dead' Season 3 Trailer and Release Date — VIDEO
'Walking Dead' Comic-Con Poster Elects New Characters
'Walking Dead' Season 3 First Look: Zombies, Samurai Swords and the Prison