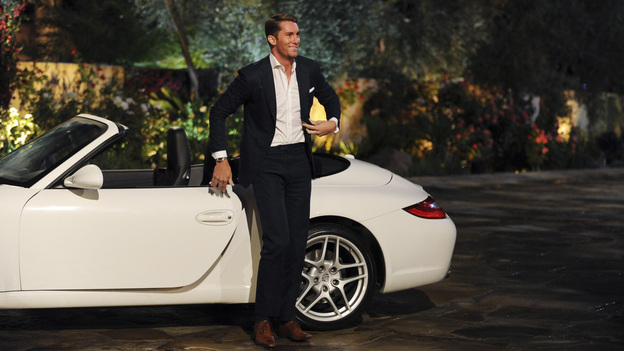 Season 3 of Bachelor Pad premieres on Monday night, and if the preview spots are any indication, it's going to be stuffed to the gills with drama. But would you expect, or want, it any other way? The cast is chock full of Bachelor/ette alums fans love and love to hate, as well as five super fans, all competing to win love and/or money. So the stakes are a little high.
Hollywood.com spoke with host Chris Harrison about Monday's premiere, and he was more than happy to fill us in on two of this season's wildcards: Emily Maynard's castoffs Chris Bukowski and Kalon McMahon. 
By the time he was booted from The Bachelorette, Chris was positive that he not only was the best guy for Emily, but that he would make a fantastic step-father for her six-year-old daughter. So then how do you reconcile the canoodling and bed-hopping Chris is doing in the promo? Harrison, for one, is convinced that despite his playboy ways on Bachelor Pad, Chris' feelings for Emily were sincere. 
"The only thing I'll go with — and I'll never know and I don't think any of us will ever know, but I'll just go with my gut instinct and base my opinion off what I saw in his eyes at the Men Tell All [special] the other night — [was that] he was hurt, and he was sincere," Harrison said on a media conference call. "I was really struck at both Jef — I'm sorry, Sean, and Chris in their reactions to Emily. Usually guys especially are pretty good about covering up emotions and saying, 'Oh, you know what, it wasn't a big deal, I wasn't that into her,' and both Sean and Chris were really open in how much they loved her. And for a guy to do that, that really says a lot. Was all that sincere? I'm taking it as such."
Before moving on to the dramz surrounding Emily Maynard's Most Wanted, Kalon, let's take note of Harrison's little Freudian slip. Did he accidentally reveal that he knows what Jef looks like after getting dumped by Emily? Does this mean that Arie is the last man standing? We won't know for sure until Sunday's Bachelorette finale, but it seems a wee bit suspicious. 
Now on to Kalon! One of the most tantalizing bits of the premiere promo spot is a glimpse at a budding romance between America's sweetheart Lindzi Cox (from Ben Flanjik's season of The Bachelor), and child-hating man devil Kalon McMahon. Harrison weighed in on the unlikely pair. 
"Definitely you'll have to watch. It's interesting because the way this show works, not all the time but a lot of the time, you have to partner up with somebody and you start relying on people. And it's amazing how relationships kind of form out of those partnerships. And definitely Kalon and Lindzi will be a couple of people to watch on the show. And just Kalon in general. Kalon, in a way, kind of reminds me of Erica Rose in that he thinks what he's saying is wise, and he thinks he's kind of helping his own cause. But he doesn't realize that he's in the pot that he's stirring and only making things worse."
We'll have to tune in to know for sure, but Harrison sure makes it sound like Lindzi and Kalon become partners in the game as well as in one another's beds. 
[Photo Credit: ABC]