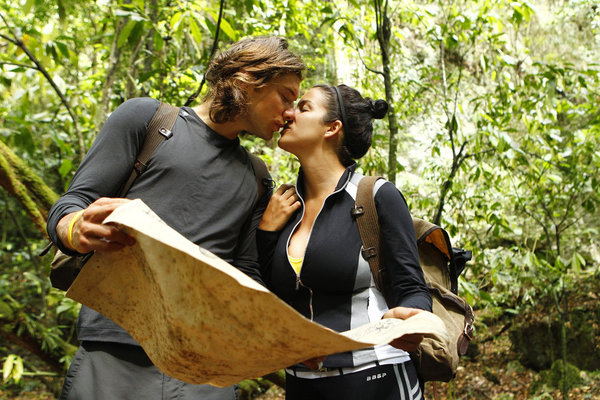 Tuesday nights are about to get a whole lot darker, as Love in the Wild — NBC's Survivor-meets-Bachelor dating game — will air it's finale this week. There are only two couples left for host Jenny McCarthy to mentally and physically torture, and these couples will go head to head this Tuesday to win the final prize: A trip around the world. (Wouldn't it be awesome if they pulled one final trick and just sent them to Canada? I would love you forever, NBC!)
So, who will it be? Couple A is Ken and Yanina (pronounced Ja-Nina). Ken is a one-man powerhouse whose thirst for blood could probably win the Hunger Games, and Yanina is his adorable, bright little first mate. They've been attached at the hip since day one. Couple B is Ben and Michelle. Ben is British and tends to lose his s*** during challenges, while Michelle has very large breasts and the ability to keep fake eyelashes on in the water. This is physically impossible, which leads to my theory that Michelle is actually a wizard.
If the exclusive video below is any indicator, it's Ken and Yanina's game to lose. Watch as Ken and Yanina expertly navigate the harsh Dominican terrain, while Michelle's long, thick eyelashes make it impossible for her to see things that are right in front of her. God, I will miss this show.
Follow Shaunna on Twitter @HWShaunna
[Photo Credit: NBC]
MORE:
'Love in the Wild' Vicious Showdown — EXCLUSIVE VIDEO