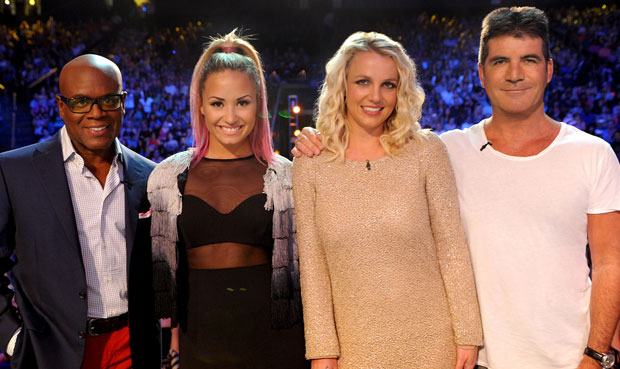 It's official: Season 2 of Fox's singing smash hit The X Factor is going to be bigger, badder, and filled with a hell of a lot more star power. Simon Cowell and L.A. Reid joined new judges Britney Spears and Demi Lovato for a satellite panel during Monday's TCA, and debuted a new trailer for the show that features, among other things, an arrest and a contestant being carried away on a stretcher. We're not sure what happened to these poor aspiring singers, but it could have something to do with some vicious bites from their new mentors — the ladies immediately proved that they won't be going the way of their kindly predecessors Paula Abdul and Nicole Scherzinger. Lovato tells off Cowell twice in the video, calling him both a grumpy old man and a little girl, but it's Spears who really lets her inner mean girl fly."You can't destroy that song, sweetie," Spears says to a crushed hopeful. "Very predictable." To another, she simply said: "I want to know who let you onstage." 
Ouch, Brit! But Cowell assured the crowd of journalists that, after last year's Abdul/Scherzinger disaster, the bite from the girls is needed. "They are harder to please than me or L.A," Cowell says. "They're very happy giving people a 'no', but that's why we hired them." When a reporter asked about Spears' and Lovato's judging style, Cowell replied, "Britney is quite mean, which you'll discover...Both bring different things. I always said the number one person I wanted on one of these shows was Britney. There's something intriguing about her. She's a really, really good judge. Demi is a brat, but there's something really likable about her as well."
When a reporter mentioned that the last person Cowell called a "brat" (Scherzinger) was later fired, he mentioned that he doesn't see a mass-firing happening again. "No one has any job security anymore, including myself," he says. "You're at the hands of the audience who watches the show. For certain reasons, [last year] we felt that we needed a change. I don't envision this changing for a while. The panel works, the girls seem happy, I've got my buddy L.A. back, we're having a good time."
Of course, Cowell and co. also fired the show's former host, Steve Jones. Cowell says that the plan is to hire two hosts this year — one male, one female. "Ideally, I'd like someone who hasn't actually been a host before," he says. "[Producers] Andrew (Llinares) and Rob (Wade) are screen-testing some people. We should make an announcement around mid-August."
As for the talent, Reid says that this year it's better than ever, with Cowell adding that a certain country artist is particularly promising. They're at boot camp right now, but Cowell already thinks that this year's groups are much better, possibly due to the influence of British mega-group One Direction. "I think One Direction has proved that we're back into a pop market again, and I think it's healthy for the recording industry," he says. "Melanie Amaro was an amazing winner last year. I just heard her single, it's amazing."
This pop resurgence, and its youthful market, is part of the reason why Lovato was hired. "It's a really interesting thing when you bring a much younger demographic into the competition," Lovato says. Reid agrees: "The truth is that Demi is so close to the demographic that currently is the landscape of pop music. She really leads us."
These remarks from Reid led to one reporter finally asking the golden question: Did Lovato see the episode last season that featured Reid scolding teen contestant Drew Ryniewicz for singing a song by a "40-year-old" — that song being Lovato's hit ballad "Skyscraper"? "I definitely didn't let him live that down," Lovato laughs. "Okay, suddenly I'm 40?"
When asked if Lovato had any concerns about exposing young artists to instant fame after her own struggles with bulimia and self-harm, she said that those issues probably would have surfaced with or without fame. "Unless you're in a good place when you start working, it's kind of inevitable for these things to happen," Lovato says.
The rest of the panel was decidedly lighter. When the ladies were asked about their favorite reality shows, Cowell quickly barked: "Don't mention The Voice." He also bashed his former hit American Idol, saying that only "Seasons 1 through 8 were good," and commented on the newly-announced hiring of judge Mariah Carey. "I'm happy for her," Cowell says. "I like Mariah. [But] I think she's going to find it difficult to say no. She's sweet."
Follow Shaunna on Twitter @HWShaunna
[Photo Credit: FOX]
MORE:
'X Factor' Promo: Britney's Got Bite!
'X Factor' and Britney Spears: Ushering in the New Era of Reality?