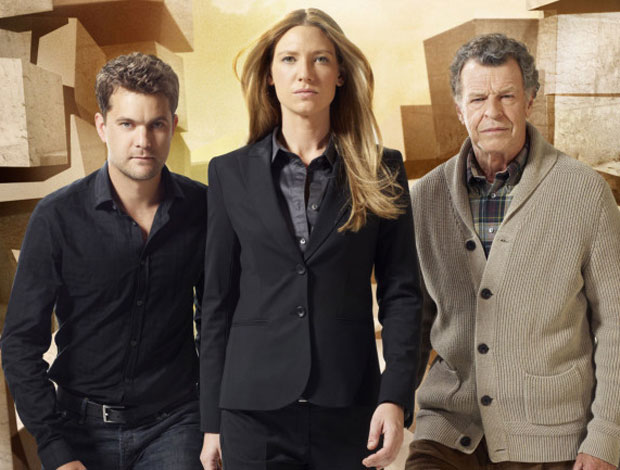 Monday at TCA, the cast of Fox's stellar sci-fi offering Fringe gathered to discuss its fifth and final season. Anna Torv, Josh Jackson, and Lance Reddick joined producer Joel Wyman on stage, where they showed the season 5 trailer played at Comic-Con, and heard kind words from creator J.J. Abrams. "I wish I could be there personally to thank each and everyone of you," Abrams said via satellite. "The work that the cast and crew has done has been amazing, but your support has kept it alive." He then went on to praise Fox for taking a continuous risk with the little-watched, but much-beloved show. "While it's something we're all proud of, it's a rare thing that a network will support a show that isn't a massive hit," Abrams said. "Fringe has always been true to its name — more of an out-of-the-box kind of thing. I wish I were there to celebrate what I think will be an incredible fifth season."
While little was spoiled about the actual plot of the fifth season, which will take place in a dystopian future where evil "Observers" have gone back in time and seized power, Wyman and co. assured the press that the emotional ending to the series would be satisfying. "Every single person that I've invested for four years, I want to see them get what they deserve to get," Wyman said. "I don't want unanswered questions that will make you confused."
This transparency is a treat for the fans, but also for the actors. "It's funny for me this season, because usually we don't know anything," Torv said. "We have more of a clue to what's going on this year. It's made me stop thinking of possibilities, and focusing on what we've got." Jackson agreed, and noted that having a known end-date has been a blessing in disguise. "Joel has been incredibly forthcoming with everybody on the cast this year," he said. "You don't even understand the amount of knitting-circle time [we'd use] trying to course out where the show is going to go. But now that we know, we can all get together and focus on what will be. The benefit of that knowledge gives us all the opportunity to do, I hope, our best work."
"Our focus at the moment is on the journey," Torv added. "You want to make the journey count." Of course, Torv has already given a remarkable performance along her journey. The Saturn Award-winning actress has played everything from a doppelgänger version of herself to Leonard Nimoy--a move that her boss was quick to praise. "We were expecting Anna to call back, 'Have you lost your mind? You want me to play William Bell'? But not a peep," Wyman said of his star. "Everything you saw was her fully embracing it." "But I cried," Torv added. Jackson joked about being the only one in the cast without a doppelgänger saying that "having to sit for nine pages watching a person speak to air, and then having that person respond back to air" was a process he was glad to have done without. "I loved it," Torv countered. "The more you have to do, the more engaged you are in it. It was fun. I loved it so much, because when the Alternate Olivia came, we were two years in. I was adamant about the things I didn't want to repeat [from regular Olivia]. I was very sad that we said goodbye to her." Reddick agreed that it was tough to say goodbye to the alternate-universe characters at the end of last season, but he's happy to stay in the prime. "I don't know what it is about the primary universe that I like so much, but there's something about those characters together that felt more like family," he said. After that, a lot of the talk turned to a currently absent member of Fringe's family — scene-stealing star John Noble, who has arguably given the performance of a lifetime. "I don't think that there's a person that works on our show that doesn't have the utmost respect for John as a person," Torv said. "Watching John and Josh taught me how television works. I'd always done things that were finite... television is just so fluid. You would watch John and Josh start to really push the envelope with their characters, slowly, and you'd see when something amazing would happen. As far as John goes, he just tries anything and everything. There's just no shame there. He just gives it a go, and that's what people aspire to do." Jackson agreed, and asserted that no other actor in this universe could have brought Walter to life. "I don't know how many more superlatives I can throw at John, because I have a major, major man-crush," he joked. "The process of working with him has been a beautiful process of discovery. He is a wonderful man and performer. What he has done on this show, what he has made Walter, is one of those things... that's kind of once in a lifetime. The thing that he's created really could only be him. It is that passion and that dedication and that fearlessness that has made Walter the thing that we love so much. There are not enough words to express just how wonderful the experience of working with him, and how great I think that guy is." Unfortunately, that passion and dedication has not yet led to an Emmy nomination. "We feel like a lot of you guys," Wyman said. "I'm sitting in that editing room going, 'Wow.' To be honest with you, I can't comprehend it. I don't understand. I'm trying to just believe that the cream will always rise to the top. Hopefully someone, somewhere will realize what this man is doing."