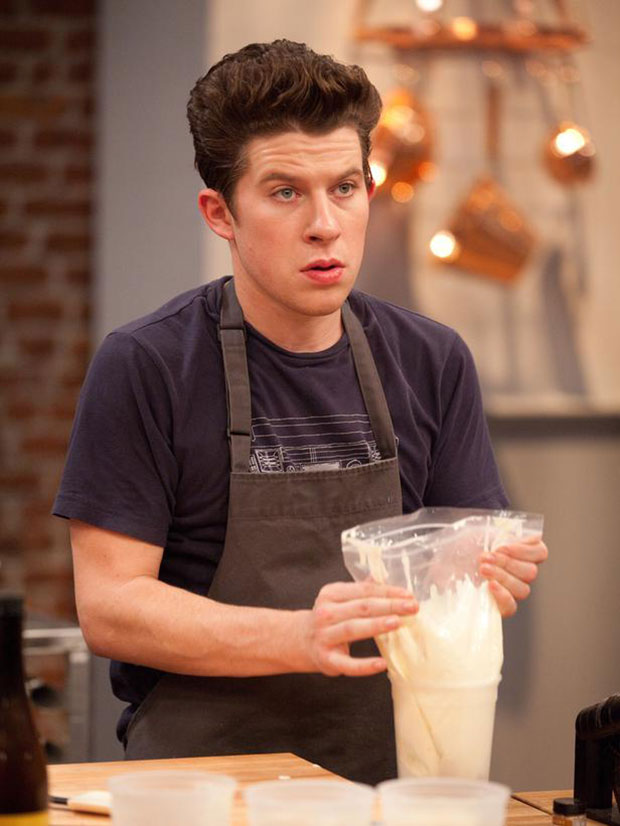 Was this the best season yet on Food Network Star? It certainly felt that way, given the major facelift that the series received this year. Instead of judging, Food Network staples Bobby Flay, Alton Brown and Giada De Laurentiis became mentors to a team of five individuals and guided them (well, most of them) through to the finale. So who achieved sweet, savory victory?
Justin Warner
, the 28-year-old Brooklyn restaurant owner with a
flair for the unique
, was the frontrunner throughout the entire season and will rightfully find himself with a primo primetime spot and his own TV show,
Rebel with a Culinary Cause
, come this fall. Hollywood.com hopped onto a press conference call with Warner, who said that despite being a judge favorite, nothing in the competition was ever a breeze.
"I wouldn't ever say the word easy," says Warner. "I studied my competitors, and you would kind of start to see them crack a little, so I just made sure that I never showed that. I didn't want to show frazzle or stress." Well, at least not on camera, right? Wrong. "What you see [on the show] is what you got. For me, it was a conscious effort to not look stressed or bothered or bugged. I had more things to think about. I'm not going to think about what's going wrong. You just have to adapt or move quickly."
Although Warner can bask in success, he also feels empathy for the 14 other contestants who will obviously not be joining him in the Food Network family, including fellow Team Alton member Emily Ellyn, whose elimination he called the most shocking. "I just thought she was the complete package," he says. "Good look, good idea. I guess she had a couple of camera issues, but I think with just a few more weeks, she would [have been] able to rock it."
One of the best parts of Warner's tenure on the show was his relationship with mentor Alton Brown ("It was very important for me to make him proud") — but what of Warner's interaction with the rival teams' coaches? "Giada's a very intoxicating personality. She'd come up to me while I was cooking and ask me what I was cooking, and it's like jaw-dropping. 'Uh, uh, I'm making fish bones, Miss De Laurentiis.' And Bobby [was] slightly intimidating, but he's actually a very normal, nice chef, and he brings a lot of... chefliness to the table. We all kind of poked fun at each other, had a good time. It was a blast."