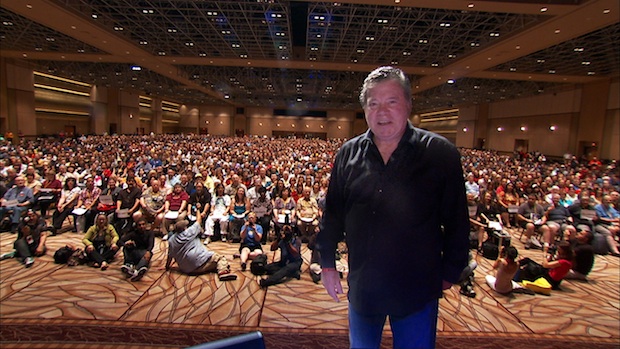 If the original Star Trek series boldly went where no man has gone before, then the same cannot be said for William Shatner's new Trekkie-centric documentary Get a Life! (Epix, July 28, 8 PM ET/PT). It's not particularly bold, and perhaps more egregiously, it goes where many have gone before: into the well-known world of obsessed Trek fans.
46 years after the Starship Enterprise took off, the passionate fans who have devoted themselves to the mythology, culture and aesthetic of Star Trek are perhaps just as iconic as the series itself. We've seen their elaborate costumes; we've witnessed their unparalleled knowledge of Trek trivia and episodic lore; we've heard their stories of finding love and forming deep friendships at conventions, staples of Trek fandom which have become just as familiar to non-fanatics. The story of the Trekkies has been told so often in pop culture (most notably in the 1997 documentary, the enigmatically-titled Trekkies) that there's frankly nothing left to tell. Shatner wrote, produced, directed and (kind of) stars in the documentary, which visits a Vegas Star Trek convention celebrating the show's momentous 45th anniversary, but unfortunately for Shatner and all parties involved, the doc doesn't do much other than rehash these same stories. 
Still, even if we've heard the stories of clingy Klingons before, what Get a Life! has going for it — aside from an ill-fitted title derived from an old Saturday Night Live sketch — is a nonstop supply of heart. When Shatner isn't wasting time interviewing the tedious Robert Walter (longtime purveyor of mythology and utterly un-thrilling camera personality), the stories of fan compassion are little gems, whether we've heard them before or not.
There's the guy who tenderly proposed to his wife onstage during a memorabilia auction; the group of women who befriended each other decades ago thanks to their shared love of Nana Visitor; and the touching tale of "Captain Dave" Sparks, a severely handicapped fan who became something of a celebrity at conventions before passing in December 2011. It's stories like Sparks' that redeem Get a Life!, which is otherwise bogged down by uncreative portraits of typical Trek geekery.
So should you watch? It's no question that Shatner has come full circle with his relationship to the series, and this documentary, despite its shortcomings, is Shatner's odd-duck version of a love letter to fans. It's worth a glimpse, especially given the dearth of interesting counter-programming during the Olympics. Although it doesn't break any ground, let's face it — when it comes to Star Trek, resistance is futile.
Follow Marc on Twitter @MarcSnetiker
[Photo Credit: Epix]
MORE:
Karl Urban Reveals Potential 'Star Trek 2' Villain?