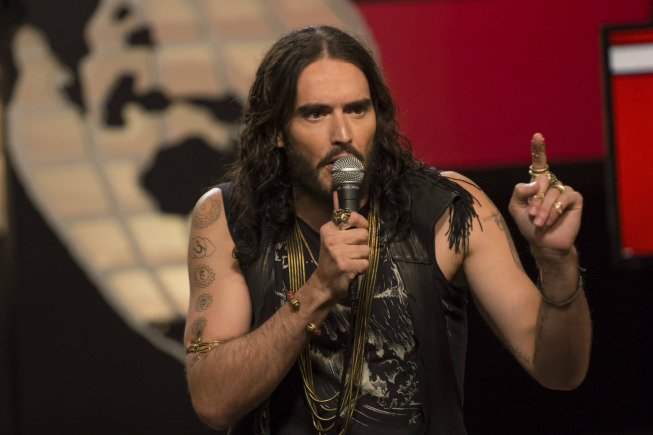 "Oh yeah, I remember this experience," Russell Brand recalls to a room full of TCA reporters. "It's like being in some imaginarium or situated in purgatory where you don't entirely know where the voices are coming from." And so begins one of the most entertaining television panels I have ever been to.
Representing his new FX late-night talk show BrandX, Brand happily sauntered on stage Saturday morning at the TCA panel in Los Angeles. His hair styled in his signature look: just-survived-a-hurricane, wearing ripped jeans, a bundle of sparkly beaded necklaces and no shoes. Yes, you read that correctly. Brand decided to let his toes go commando while many stodgy reporters were trying still trying to enjoy their breakfast. Overall, Brand's whole demeanor could be described as "homeless chic."
Although there was an overwhelming amount of jaw-dropping quips and comments, Hollywood.com narrowed down Russell Brand's top ten hilarious quotes of the session. Ready, set, enjoy!
1. Reporter: "Russell, here in the center!"
Brand: "You are easy to see. You are in a pool of light! You look like you were put there by Caravaggio!" ("I don't know who Caravaggio is.") "He's an Italian renaissance artist and he's a great genius, but also, he killed someone in a duel! So, like, in the old days, people were like, 'Oooh, you're an artist?' and then he would f***ing kill people!
2. "Where are your shoes?"
"They're at home. They're at home with their step-mum. They're like my children. You don't always have to have shoes. Well, its purpose is this foot here has become hurt from what can be described as kicky boxing. I call it kicky boxing. Kick-boxing sounds so aggressive. It's not like I kicked someone so hard that my foot fell off. It's that there was an abrasiveness caused by the pad. It's essentially a rug burn, so I thought, don't wear shoes for a while.  I mean, shoes are in themselves an oddity, an addition. Actually, the question is, why are you all wearing shoes?
3. "Question in the back, in the same neighborhood."
"Same neighborhood? Ghettoized! Looks like there are different cultures springing up within this place. Well actually, this is all very well to do. This is the Bel-Air of the critics conference."
4. "Russell, up here on your far right!"
"Be careful how you say that, mate. This is no time to be announcing yourself as a member of the far right."
5. "Are you going back to your home country for the Olympics?"
"I'm going back there in a couple days to participate in the Olympics. Well not as an athlete, as you can see from my foot wound, but I am participating in a viewing capacity."
6. "What is your stand on Chick-fil-a? Pro or con?"
"Didn't Chick-fil-a say that they are racist now? Oh no, homophobic! I get mixed up with the prejudices. I don't care. I don't agree with eating a chicken anyway, because I think that's an unkind thing to do to a chicken. Just let it carry on doing what it's doing."
7. "Your thoughts on Bristol Palin on DWTS?"
"I don't know very much with what happens when a Palin has a baby and then it grows up to live its own life, but if it's anything like the originator of that thing, then I guess Dancing With The Stars is the right place for it."
8. "What kind of guests are you going to have on the show?"
"Yeah, we're going to have Charlie Sheen. I like his show on FX… Who else do you think, because that's really as far as I've thought? Maybe he can come on every week and we'll get a different one of his personalities."
9. "What about Sarah Palin? What would you ask her?"
"Sarah Palin would be amazing! Wouldn't she? Well, I think we all know I'd go straight to the subtexts. Well, because I think the reason that Sarah Palin has been so long tolerated is because of that blatant inquisition around the vagina. People want to f**k her, mate! That's why you tolerate the other stuff! It's like, okay, she's got mad things to say about seeing Russia out her window, but the d**k don't lie!"
10. Brand to the panel's moderator: "Couldnt you have ended it before I said that? What were you thinking?! That's all they're going to write about now. They're going to change the format now and it will say I'd f**k Sarah Palin!"
Follow Leanne on Twitter @LeanneAguilera
[Photo Credit: FX]
MORE:
Russell Brand Receives Sentence for Pap iPhone Incident
TCA 2012: FX Announces Fourth Season for 'Louie,' Martin Sheen on 'Anger Management'