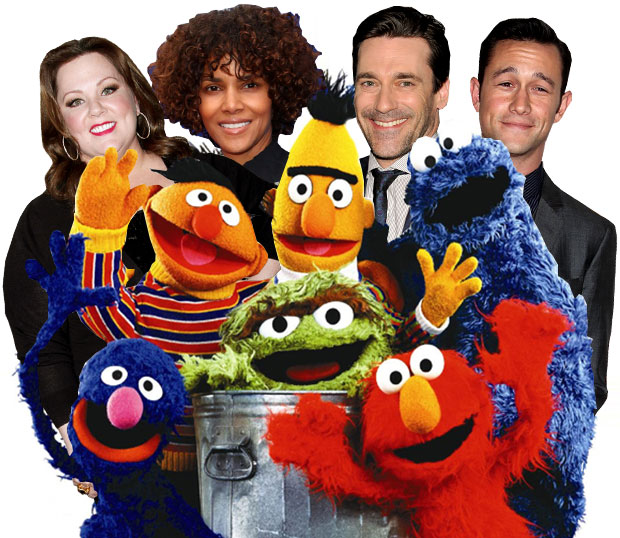 When perennial kids' favorite Sesame Street returns for its 43rd (!) season this September, there will be no shortage of A-list stars lending their talents — in expectedly adorable ways — to the award-winning children's program. While kids watching from home are kept amused by the show's colorful cast and bubbly segments, Sesame derives much of its parental entertainment value from brief pop-up appearances by high-caliber guest stars who surprise the adult audience with endearing songs, lessons and overall heartwarming affection for the show's resident Muppets.
Joining the Sesame crew this season are Casey Affleck, Kristen Bell, Halle Berry, Steve Carell, Don Cheadle, Common, Zac Efron, Joseph Gordon-Levitt, Blake Griffin, Jon Hamm, Ed Helms, David Hyde Pierce, Matt Kemp, Mario Lopez, Melissa McCarthy, Timothy Olyphant, Paula Patton, Maya Rudolph, Amy Ryan, Dax Shepard, Supreme Court Justice Sonia Sotomayor, Eric Stonestreet, rock band Train and Wendy Williams.
Entertainment Weekly reported the starry list of individuals and teased some of the pop culture spoofs that we can also expect (for Cookie Monster's "Call Me Maybe" cover and 12 other excellent viral videos from the Sesame team, we've got you covered). Among the puppet parodies this season will be a body part-centric send-up of The Voice, a dizzy directions lesson called "Upside Downton Abbey," and a series of 11-minute math-focused segments called "Elmo: The Musical."
<a href="http://polldaddy.com/poll/6443642/">Which celebrity are you most looking forward to seeing on 'Sesame Street'?</a>
Follow Marc on Twitter @MarcSnetiker
MORE:
Cookie Monster Covers 'Call Me Maybe' (And 12 Other 'Sesame Street' Viral Videos)
Some Ideas for the New 'Sesame Street' Film
Torture Me Elmo: 'Sesame Street' Songs Reportedly Used To Crack Gitmo Detainees