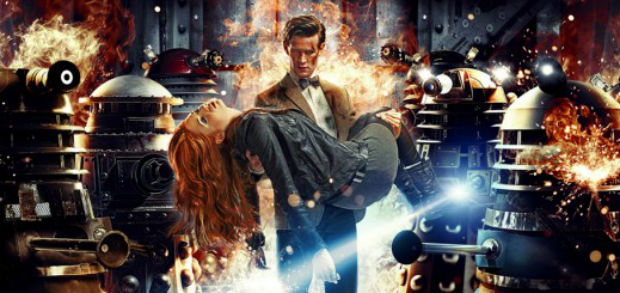 Good news,
Doctor Who
fans. BBC is giving the good Doctor a fantastic 50th birthday present: a 90-minute special movie about the origin of the character.
An Adventure in Space and Time
is slated for later this year, according to
Deadline
, and will surely be greeted with enthusiasm by the legions of folks who've made
Doctor Who
the most watched series on BBC America and the most downloaded TV series on iTunes. Of course, while the idea of 90 straight minutes of TARDIS action is an enticing prospect, the fact that it's a made-for-TV movie might make it sound a little hokey. But the TV-bound film doesn't have to be a women's network movie about a mother who can't stop her teenage daughter from drinking and who's being sexually propositioned at work while uncovering some 20 year old mystery. There is such a thing as a good TV movie.
Doctor Who
will be a-okay. 
While the quality of the TV event movie has waned in recent years, it's still got some steam. Contemporary 90-minute TV flicks aren't exactly up to the quality of 1971's Brian's Song or Stephen Spielberg's ABC event Duel, but the genre didn't die after the '70s. It still has some steam. Rather obviously, the first place we can seek out great television-only films is on HBO, where movies like this year's Game Change, 2008's Recount, and 2001's *61 have been charming audiences throughout the 2000's. But HBO isn't exactly regular television, so the surprise there is pretty minimal.
It's in the realm of family and children's programming that we've really seen some quality productions. From 1997's TV revival of Roger and Hammerstein's Cinderella, starring Brandy, to more recent phenoms like the High School Musical series, it's clear that it's still possible to encounter quality and event-worthy TV movies.
Of course, Doctor Who has a serious leg up, because its TV special is pulling from a rich mythology and it's got a built-in audience of a devoted fan base. It's something that's worked wonders for the TV specials for Family Guy, which combined the Star Wars trilogy's fanbase with its own for hour-long mini-movies Blue Harvest, Something Something Dark Side, and It's a Trap! (which are parodies of A New Hope, The Empire Strikes Back, and Return of the Jedi, respectively). 
It's still somewhat of a throwback to see any TV series come out with its own extended TV movie, but it's not entirely impossible. The landscape of made-for-television movies doesn't wholly belong to Lifetime's salacious romances and SyFy's (admittedly epic) ridiculously cheesy flicks about Sharktopi and Gatoriods. It is still possible to find a good TV movie, and there's a relatively good chance that Doctor Who's 90-minute excursion will fall into that more flattering category. 
[Photo Credit: BBC]
More: