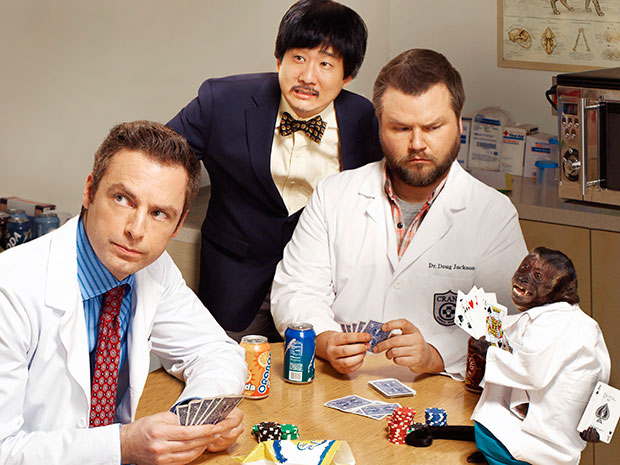 Underneath a row of plastic chairs, Barnaby the cat waits in nervous anticipation. Above him, three dogs of varying size relax, patiently awaiting their cues. Across the room, a giant stuffed tiger is wheeled in on a gurney, only to be replaced by yet another dog wearing a fat suit minutes later. (It's his specialty — check the resume.) This may sound a bit like your latest acid dream, but it's actually just the set of NBC's Animal Practice — a wacky workplace comedy that's set to debut this Sunday, following the closing ceremony of the Olympic games.
Hollywood.com visited the Animal Practice gang last Thursday, and we were able to tear ourselves away from the show's true star — Crystal the monkey — for just enough time to talk to its human leads between takes. Surprisingly, they've managed to put aside their celebrity egos and accept their resident primate (who also stars on Community as Annie's Boobs) as their big ticket draw.
"I think she's the star of any place that she goes," said Joanna Garcia-Swisher, who watched Crystal steal the spotlight from former VP candidate Sarah Palin at NBC's recent TCA party. "Does anyone know if Sarah met Crystal?" wondered Weeds' Justin Kirk, the show's actual star, who is currently working on a foolproof way to get some attention back on him. "I'm working on this joke," he said. "This is my new joke. I go on about something, and then I say, 'Oh, you meant Crystal the monkey. I was talking about a stripper that I know.' … It's in its early stages."
All kidding aside, the gang was quick to remind us that Animal Practice isn't just a slapstick-fest about a monkey wearing scrubs. "They [NBC] have a built-in promotional tool here, but I don't want people to get the wrong idea," said Tyler Labine, who plays a more sensitive, personal vet opposite Kirk's misanthropic oddball. "I keep getting approached by people [saying] 'Oh, you're on the monkey show!' Well, I'm on a show with a monkey that's featured, but it's not the monkey show. It's a lot more clever. It's not that shticky show that it's coming across as. We're using the monkey as a promotional [tool]. Why wouldn't you? Who's not going to use the monkey? But it's a clever show."
It's definitely a clever show, and it also features one of the most well-rounded comic casts this TV season. In addition to Kirk, Labine, and Swisher, you have MADtv's Bobby Lee, Sparks' Kym Whitley, and Upright Citizens Brigade staple Betsy Sodaro. All of this talent leads to great comedy, but also some brutal competition. "This is the first time I've ever worked with a cast in which each person can stand on their own," Whitley said. "Each person is funny, in their own right. If I could just be totally honest, it makes me step up my game. Raises the bar. Especially in a scene with Tyler. If you leave any kind of air, he's going to jump in there, so I am always playing Double Dutch with him. I've got to get my line in first, [but] then he gets it in! Then [producers] are like, 'Wow, ha ha ha.' I'm like, 'Really, Tyler? I was going to say something!'"
Even Kirk (who is the practice's resident grump) and Garcia (who has to lay down the discipline) get to join in on the fun. In fact, Sodaro feels that Practice is reminiscent of another comedy that found bankable quirks in each character. "It's like Arrested Development and Jason Bateman," she said. "As much as he was the straight man — the voice of reason — he had his weird moments too, which is just such a fun part of comedy."
Of course, despite Labine's insistence that the animals don't bring all of the comedy, you have to give some credit to the wildlife for creating a literal zoo on set. Each cast member fondly reminisced upon a particular incident involving Lee and a dangerously grumpy snake.  "There's a scene in the pilot where he's got a snake wrapped around his face," Kirk said. "It emitted an 'I don't want to be here' juice on his face — [then] I heard someone call for a medic. He broke out in hives. That's the kind of fun that we have here."
Indeed, something about that incident — which Lee claims was cured by Benadryl — must have been rewarding, because Lee asked to shoot it again with the same critter when it came time for reshoots. "That's not negative," he joked. "When an animal pees on your face, that can be construed as two different things. In some countries, that's a hello." Labine didn't find that "hello" to be particularly enticing. "[Lee] smelled pretty horrible after," he said. "And he went around and made everybody smell it afterwards... [there were] blood freckles all over his face."
All disagreements aside, there is one perk tied to working with animals that everyone could agree on — finding out all of the strange and nasty ways they have sex. "I can tell you exactly how a California Desert Tortoise does it," Garcia said. "I'll show you."
Follow Shaunna on Twitter @HWShaunna
[PHOTO CREDIT: Chris Haston/NBC]
MORE:
Exclusive 'Animal Practice' First Look: Meet Fall TV's Hottest Star — VIDEO
NBC Sets Early Fall Premiere Dates