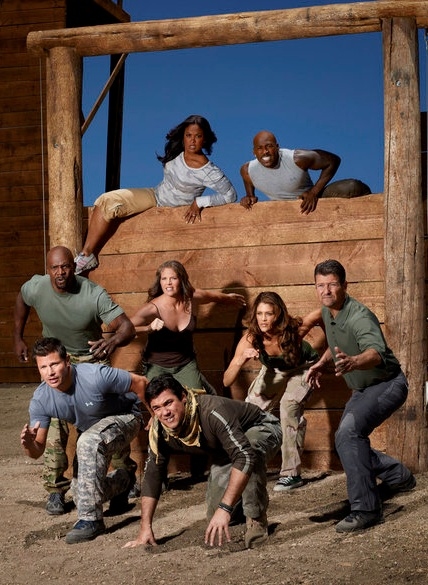 Want to know what happens when Desmond Tutu and a bunch of other Nobel Peace Prize winners get together to watch TV? They see that NBC's got a new reality competition show in the works (you remember it, don't you? It's called Stars Earn Stripes), and well, they get pretty upset about it. It's pretty surprising! Since, you know, reality television is rarely ever criticized for glorifying things it shouldn't, right? (He're looking at you, Teen Mom!)
According to CBS, the award-winning peaceful folk are outraged at the content of the show. "This program pays homage to no one anywhere," started the note penned to NBC that featured signatures from Tutu as well as Jody Williams, Mairead Maguire, Shirin Ebadi, Jose Ramos-Horta, Adolfo Perez Esquivel, Oscar Arias Sanchez, Rigoberta Menchu Tum and Betty Williams. The Nobel winners went on to say that the show trivializes the seriousness of war, by "trying to somehow sanitize war by likening it to an athletic competition."
The series--which oh-so-conveniently premieres tonight on NBC--pairs celebrities with U.S. military personnel for simulated military challenges. These celebrities include Laila Ali, Dean Cain, Picabo Street and former Alaska Gov. Sarah Palin's husband, Todd Palin. The show, hosted by former Presidential candidate retired Army Gen. Wesley Clark, is being framed as an homage to the hard work done by our nation's soldiers. "I'm doing this series for one reason," explains Clark from the show's onset; "to introduce you, the American people, to the individuals that sacrifice so much for all of us." It is said that the show gathers its celebrity contestants at a remote training facility where they have to execute missions inspired by real military exercises.
The Nobel laureates also threw their weight behind a protest against the show scheduled to take place Monday outside NBC's headquarters in Manhattan.
Do you think the criticism is warranted or overstated? Sound off in the comments!
[Photo Credit: NBC]
Follow Alicia on Twitter @alicialutes
More:
'Stars Earn Stripes': Boot Camp or Bait?
Sharon Osbourne Quitting 'AGT' After NBC Fired Jack Osbourne — REPORT
Dick Wolf, Mark Burnett Team for Military Reality Show: 5 Celebs We Want to See